Scientific Name:
Rana berlandieri
Diagnostic Features:
Smooth, angular frog.

Dorsolateral folds broken and inset medially at the hip.

Male vocal sac, when not inflated, collapses into a pouch which looks like a black slit.
Coloration:
Dorsal color pale brown or green.

Several rows of irregularly placed dark spots between light dorsolateral folds, with dark spots outlined by lighter color.

Pale light line along upper jaw.
Size:
Rana berlandieri can reach a size of 7-10 cm (2.2-4 in) as an adult.
General Distribution:
In North America, Rana berlandieri is found in Texas and northeast Mexico.
Behavior:
Rana berlandieri is nocturnal and burrows to avoid the heat of the sun. Rana berlandieri can feed on a variety of insects and anything smaller than itself.
Reproduction:
Breeding in Rana berlandieri can take place year-round with ample rainfall. Egg masses are laid in water and attached to vegetation.
Habitat:
Rana berlandieri is found in arid regions, often near brooks, creeks, or streams; R. berlandieri may also be near cattle irrigation tanks.
Conservation Status:
The Rio Grande leopard frog is not a protected species in Texas and can be legally collected with a hunting license.
Texas Distribution:
In Texas, Rana berlandieri can be found in moist environments throughout central, west and south Texas.
Distribution Map: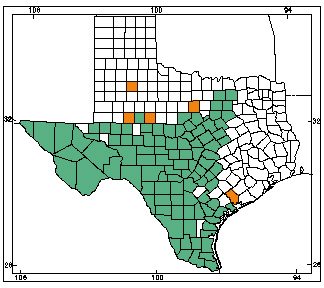 Orange counties indicate new county records since previous Herps of Texas update in 1998; all other colored counties reflect known distribution prior to 1998 for species and/or subspecies. Map is based on museum voucher specimens.