Scientific Name:
Pseudemys gorzugi
Diagnostic Features:
Carapace is oval and elongated, flattened, with a slight keel (highest in middle); posterior edge of carapace serrated.

Unhinged plastron.

Lacking medial notch on upper jaw and tooth-like cusps.

Webbed feet.

Males with longer fingernails on forelimbs than females.
Coloration:
Carapace olive with blotches of alternating yellow and black.

2nd costal scute with four distinct blotches (bulls-eyes)with concentric black and yellow rings.

Plastron yellow with pigment along seams, fading with age; plastron pigment present along anterior seams in adults.

Skin brown or olive; yellow stripes present on neck, legs, and tail.

Oval postorbital blotch (yellow) with temporal stripe curving dorsally over blotch.

Wide yellow stripe down middle of head and neck.

Central chin stripe extends and forks posteriorly (to Y-shape).
Size:
Pseudemys gorzugi reach carapace lengths of 24 cm (9.5 in) as adults (females larger than males)
General Distribution:
In North America, Pseudemys gorzugi is found along the Rio Grande and Pecos River drainages in Texas and southern New Mexico. Isolated populations have been found in several northern states in Mexico (Coahuila, Nuevo Leon, Tamaulipas).
Behavior:
Not much is known about the diet of this species, but preliminary results indicate that it may be primarily a vegetarian.
Reproduction:
Little is known about reproduction in this species; reproduction may be similar to the other two Pseudemys found in the state.
Habitat:
The Rio Grande cooter is found in clear pools in New Mexico, but can be found in clear to muddy streams in Texas.
Conservation Status:
The Rio Grande cooter is not a protected species in Texas and can be legally collected with a hunting license.
Texas Distribution:
In Texas, Pseudemys gorzugi is present along the Rio Grande drainage, from Val Verde County (Del Rio) to Cameron (Brownsville), as well as upper reaches of the Pecos River drainage in Culberson, Reeves, and Loving counties and the Devils River in northern Val Verde County.
Distribution Map: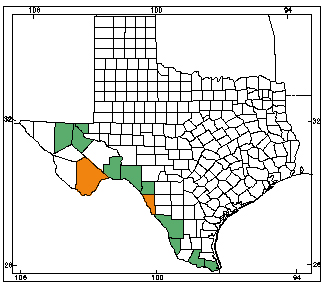 Orange counties indicate new county records since previous Herps of Texas update in 1998; all other colored counties reflect known distribution prior to 1998 for species and/or subspecies. Map is based on museum voucher specimens.