Scientific Name:
Eleutherodactylus cystignathoides
Family:
Eleutherodactylidae
Diagnostic Features:
Flat, elongated body with pointed snout.

Toe pads and tubercles on toes.
Coloration:
Dorsal color varies from brown, gray, or yellow-green with dark spots present on dorsal surface.

Ventral surface with translucent skin.

Dark crossbar pattern on hind limbs.
Size:
Eleutherodactylus cystignathoides grows to an adult size of 1.5-2.5 cm (0.5-1 in).
General Distribution:
In North America, Eleutherodactylus cystignathoides is found from south Texas to northeast Mexico.
Behavior:
Eleutherodactylus cystignathoides is nocturnal and remains under cover during the day. Eleutherodactylus cystignathoides darts quickly under cover and can run as well as leap and hop.
Reproduction:
Breeding in Eleutherodactylus cystignathoides takes place in April and May; females lay no more than 12 large eggs.
Habitat:
Eleutherodactylus cystignathoides makes its home in palm groves, backyard gardens, and irrigation ditches.
Conservation Status:
The Rio Grande chirping frog is not a protected species in Texas and can be legally collected with a hunting license.
Texas Distribution:
The single subspecies of Eleutherodactylus cystignathoides found in Texas, E. c. campi, is naturally found only in extreme south Texas; populations have been introduced around San Antonio, Houston, and La Grange.
Distribution Map: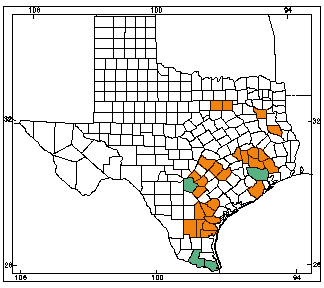 Orange counties indicate new county records since previous Herps of Texas update in 1998; all other colored counties reflect known distribution prior to 1998 for species and/or subspecies. Map is based on museum voucher specimens.