Scientific Name:
Crotaphytus reticulatus
Diagnostic Features:
Large head and slender neck.

Long, slightly flattened tail (twice the length of the head and body).

Strong limbs, with hind limbs longer than forelimbs.
Coloration:
Gray or brown ground color with light colored network of lines on dorsal surface.

Symmetric black spots fill in some of the pattern of the dorsal surface.

Cream-colored ventral surface.

Males have black collar markings and yellow chest and forelegs during breeding season.

Females have pink throats and red bars on sides of the body when gravid.
Size:
Adult Crotaphytus reticulatus can reach lengths of 20-42 cm (8-16.75 in).
General Distribution:
In North America, Crotaphytus reticulatus is found in the Rio Grande Valley of south Texas and Mexico.
Behavior:
This diurnal lizard is quick and active. This lizard species often basks atop rocks and fence posts (where it is quite conspicuous) and will shelters beneath debris and in burrows. Reticulate collared lizards feed on insects, spiders, small reptiles, and small mammals.
Reproduction:
Breeding times are not known, but females lay eggs in midsummer months. The young are distinctively marked with yellow or orange bands and black spots.
Habitat:
The reticulate collared lizard occupies a variety of habitats, which include rock piles, escarpments, burrows in brushy environments.
Conservation Status:
The reticulate collared lizard is considered an threatened species by the Texas Parks and Wildlife Department and is fully protected by the state.
Texas Distribution:
In Texas, Crotaphytus reticulatus is found along the Rio Grande in the southern portion of the state, excluding the coastal areas.
Distribution Map: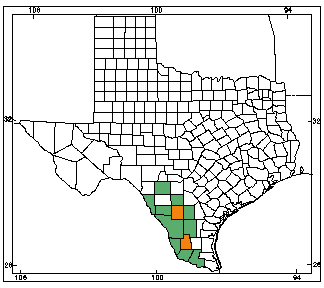 Orange counties indicate new county records since previous Herps of Texas update in 1998; all other colored counties reflect known distribution prior to 1998 for species and/or subspecies. Map is based on museum voucher specimens.