Scientific Name:
Coleonyx reticulatus
Diagnostic Features:
Dorsal rows of large tubercles on body with otherwise small scales.

Large eyes with vertical pupils and movable eyelids.

Slender toes without pads.

Prehensile tail.
Coloration:
Pinkish brown ground color with brown spots.

Faint cross bars may be present, suggesting netlike pattern.
Size:
Coleonyx reticulatus can grow to adult lengths (including tail) of 14-16.5 cm (5.5-6.5 in).
General Distribution:
In North America, Coleonyx reticulatus is found only in the Texas countes of Brewster and Presidio and two isolated colonies in adjacent Mexico.
Behavior:
This is a nocturnal gecko species, remaining under cover during daylight hours. This gecko is infrequently seen on roadways at night and after rains. Individuals may emit a "squeek" when handled.
Reproduction:
Reproduction and breeding behavior is not well known in this species. Reports on those kept in captivity indicate two eggs are laid in July.
Habitat:
This terrestrial lizard is found in dry areas of west Texas, where it inhabits rocky canyons and crevices.
Conservation Status:
The reticulate gecko is considered an threatened species by the Texas Parks and Wildlife Department and is fully protected by the state.
Texas Distribution:
In Texas, Coleonyx reticulatus is found in Big Bend, in Brewster and Presidio Counties.
Distribution Map: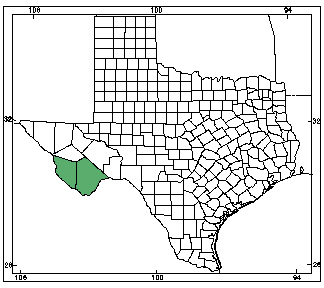 Orange counties indicate new county records since previous Herps of Texas update in 1998; all other colored counties reflect known distribution prior to 1998 for species and/or subspecies. Map is based on museum voucher specimens.