Scientific Name:
Coniophanes imperialis
Diagnostic Features:
Scales are smooth, in 19 scale rows at midbody.

Divided anal plate.
Coloration:
Alternating black and brown or dark brown and tan longitudinal stripes.

Ventral surface red or orange.

A thin light colored line originating at snout terminates at rear of head.
Size:
Adult Coniophanes imperialis can reach lengths of 30-45 cm (12-18 in).
General Distribution:
In North America, Coniophanes imperialis is found from extreme south Texas along the Gulf Coast to Veracruz, Mexico.
Behavior:
Coniophanes imperialis is secretive and burrows into the soil or retreats under logs or cacti during the day and forages during the night. It feeds on small vertebrates including frogs, lizards, mice, and smaller snakes and is mildly venomous.
Reproduction:
Female Coniophanes imperialis may lay as many as 10 eggs in the late spring. Hatchlings appear about 40 days later and are roughly 15 cm (6 in) in length.
Habitat:
Coniophanes imperialis prefers loose, sandy soil habitats with scattered debris and/or piles of rotting cacti. It may also be seen in cracks in the soil that form when the soil dries out quickly or around buildings or construction sites.
Conservation Status:
The regal black-striped snake is listed as threatened by the Texas Parks and Wildlife Department and is protected in the state of Texas
Texas Distribution:
The single subspecies of Coniophanes imperialis present in Texas, C. i. imperialis, is found only in the extreme southern part of the state.
Distribution Map: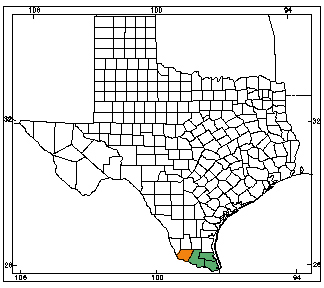 Orange counties indicate new county records since previous Herps of Texas update in 1998; all other colored counties reflect known distribution prior to 1998 for species and/or subspecies. Map is based on museum voucher specimens.