Scientific Name:
Bufo punctatus
Diagnostic Features:
Distinct small and round parotoid glands.

Overall flattened body.

Cranial crests slightly developed, or absent.
Coloration:
Gray, shades of brown, or pale olive, with reddish warts in dark blotches.

Dusky throat on males, light-colored throat on females.
Size:
Bufo punctatus is one of the smaller members of the genus, measuring only 3.5-7.5 cm (1.5-3 in) as an adult.
General Distribution:
In North America, Bufo punctatus has a broad range across the southwestern U. S. and northern Mexico.
Behavior:
Bufo punctatus is mainly nocturnal, however it may be diurnal during breeding. It feeds on insects.
Reproduction:
Breeding in Bufo punctatus occurs from April to September, coincident with seasonal rainfall. Males call from the edge of a water source.
Habitat:
Bufo punctatus is a desert resident preferring to live in rocky areas and open grasslands; B. punctatus typically remains near a water source such as a spring, stream, or cattle tank.
Conservation Status:
The red-spotted toad is not a protected species in Texas and can be legally collected with a hunting license.
Texas Distribution:
In Texas, Bufo punctatus can be found throughout most of the western two-thirds of the state.
Distribution Map: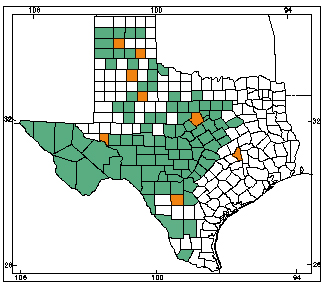 Orange counties indicate new county records since previous Herps of Texas update in 1998; all other colored counties reflect known distribution prior to 1998 for species and/or subspecies. Map is based on museum voucher specimens.