Scientific Name:
Farancia abacura
Diagnostic Features:
Dorsal scales are smooth and glossy, except around the anal region where they are keeled.

The anal plate is normally divided, yet some individuals have an undivided plate.
Coloration:
Distinctive color pattern with extensions of its all black dorsal surface mixing with with salmon color on the belly to produce a checkerboard pattern (on the tail, crossbands are formed).
Size:
Adult mudsnakes typically reach 102-137 cm (30-54 in), though some giants have been found measuring 207 cm (81 1/2 in).
General Distribution:
Farancia abacura is found in the southern United States, from Virginia to Florida, west to Texas, and north into the lower Mississippi River Valley.
Behavior:
Mudsnakes are non-venomous and rarely bite when handled. They are nocturnal and at home in the water, but they will move over land between bodies of water. They can occasionally be seen basking in the early morning after emerging from burrows made in the muddy banks. Mudsnakes prefer to eat amphiumas, eels, and sirens, but are known to eat other salamanders, fish, and earthworms; their muscular head, jaw, and neck are essential for catching and subduing such slippery prey. Mud snakes have been known as horned snakes because of their tendency to press the hardened tip of their tail into their captor\'s flesh. They are also known as hoop snakes for the tendency to lie in a circular coil. Popular myth has them biting their own tails to complete a hoop and thus able to roll away from their attackers.
Reproduction:
Mating occurs in the spring with the female laying eggs in a burrow near the water in early to mid summer. It is thought that the female remains with the eggs to protect them during the eight to twelve week incubation period, leaving only to feed, shed, and defecate. The average clutch size is 32 and the hatchlings emerge from the eggs in September or October, measuring 16-27 cm (6.25-10.5 in). Young mudsnakes have a sharper tail tip than do the adults.
Habitat:
Farancia abacura is found in wet lowlands, swamps, and other slow moving bodies of water.
Conservation Status:
The red-bellied mudsnake is not a protected species in Texas and can be legally collected with a hunting license.
Texas Distribution:
The single subspecies found in Texas, Farancia a. reinwardtii is restricted to the wetter portions in the eastern third of the state.
Distribution Map: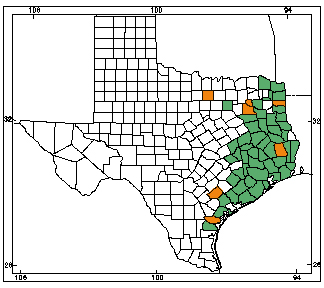 Orange counties indicate new county records since previous Herps of Texas update in 1998; all other colored counties reflect known distribution prior to 1998 for species and/or subspecies. Map is based on museum voucher specimens.