Scientific Name:
Storeria occipitomaculata
Diagnostic Features:
Divided anal plate.
Keeled dorsal scales in 15 rows at midbody.
Coloration:
Belly is typically red, though some populations have orange or yellow bellies instead of red.

No black markings on its belly.

Dorsum is a plain brown or reddish brown, with a few individuals having a series of four faint dark stripes.

Narrow dark stripes may occasionally be reduced to a series of dark spots.

Often three light colored spots along the nape of the neck, with the spots being fused together as a collar in some individuals.

Additionally, there is a white spot found on the upper labials below the eye, for which the species name occipitomaculata is named.
Size:
Adult Storeria occipitomaculata are relatively small snakes, typically measuring 20-25.5 cm (8-10 in) in length.
General Distribution:
Storeria occipitomaculata is found across much of the eastern portions of the U.S., including the Midwestern states which drain into the Mississippi River valley.
Behavior:
In the moist habitats where the red-bellied brownsnake is found, there generally are many slugs and worms that make up the majority of its prey. Storeria occipitomaculata is non-venomous and poses no danger to humans handling it. It does have a remarkable bluff against would-be predators in that it plays dead, rolling onto its back and flattening portions of its body, feigning injury.
Reproduction:
A live bearing snake, Storeria occipitomaculata bears up to 23 snakes per litter between the months of June and September, with the young usually measuring 6-10 cm (2.5-4 in).
Habitat:
The distribution of Storeria occipitomaculata is spotty in Texas, found only in the wetter woody areas in the eastern part of the state.
Conservation Status:
The red-bellied brownsnake is not a protected species in Texas and can be legally collected with a hunting license.
Texas Distribution:
The single subspecies of Storeria occipitomaculata found in Texas, S. o. obscura, is restricted to the piney woods along the extreme eastern edge of the state.
Distribution Map: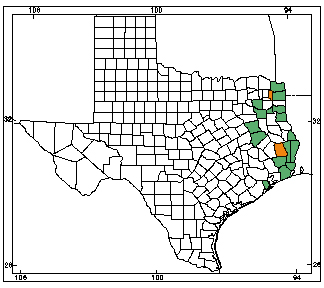 Orange counties indicate new county records since previous Herps of Texas update in 1998; all other colored counties reflect known distribution prior to 1998 for species and/or subspecies. Map is based on museum voucher specimens.