Scientific Name:
Sternotherus carinatus
Diagnostic Features:
Carapace with prominent medial keel and slight serrated posterior edge.

Vertebral scutes overlap.

Plastron small with 10 scutes and a single undistinct hinge.

Pectoral scutes rectangular.

Chin with two barbels.

Jaws tan with dark streaks.

Webbed feet.
Coloration:
Carapace brown to orange with dark borders (especially on posterior edge of scutes).

Plastron yellow with no dark pigment.

Skin brown to gray or pinkish, often with dark spots.
Size:
Sternotherus carinatus reaches an adult length of 17.5 cm (7 in).
General Distribution:
In the United States, the distribution of Sternotherus carinatus is found across eastern Texas, northern Louisiana, southern Oklahoma and Arkansas, as well as populations in Mississippi.
Behavior:
Primarily a diurnal species, the razor-backed musk turtle is active during the morning and late afternoon, avoiding the heat of the day by retreating to cool water. This turtle species also basks on rocks and logs. Omnivorous, the razor-backed musk turtle feeds on insects, crustaceans, mollusks, amphibians, carrion, and aquatic vegetation.
Reproduction:
Nesting is likely May through June with females laying a single clutch of eggs (average 5) per year. Incubation is 110-120 days.
Habitat:
The razor-backed musk turtles are found in bodies of slow moving water, including swamps, rivers, and streams.
Conservation Status:
The razor-backed musk turtle is not a protected species in Texas and can be legally collected with a hunting license.
Texas Distribution:
In Texas, Sternotherus carinatus is only present in the wetter regions in the northeastern quarter of the state.
Distribution Map: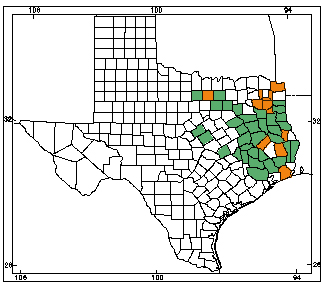 Orange counties indicate new county records since previous Herps of Texas update in 1998; all other colored counties reflect known distribution prior to 1998 for species and/or subspecies. Map is based on museum voucher specimens.