Scientific Name:
Sistrurus miliarius
Diagnostic Features:
Undivided anal scale.
Dorsal scales extremely keeled, in rows of 21 near midbody.

Short tail with a tiny rattle.
Coloration:
Body has a light grey dorsal background.

Rust-colored vertebral stripe that contrasts strongly with the background, however, the vertebral stripe may be absent in some individuals.

Series of small, dark, irregular vertebral blotches that run the length of the body; blotches are often wider than they are long, and consequently they form a series of crossbands as opposed to blotches.

Also may be one to two rows of dark spots arranged laterally.

Belly is frequently mottled.
Size:
Adults measure between 38-51 cm (15-20 in); record length is 64 cm (25 in).
General Distribution:
There are three subspecies of Sistrurus miliarius, which range from Texas, Oklahoma, and Missouri eastward to the Carolinas and Florida. In Texas, only one of these subspecies, S. miliarius streckeri, the Western Pygmy Rattlesnake, is present.
Behavior:
All rattlesnakes are venomous, and therefore potentially dangerous if approached or handled. Rattlesnakes are not generally aggressive and will most likely flee if given a chance to retreat. Because it is such a small snake, prey includes various insects and arthropods, as well as small mice and lizards. Sistrurus miliarius is nocturnal, feeding and moving almost entirely at night, spending the days under logs, rocks, or within piles of leaves. In certain parts of their range, such as areas in Florida, S. miliarius can be the most common snake species found.
Reproduction:
Sistrurus miliarius are viviparous, giving birth to live young in August and September. The neonates are very small when born, typically measuring between 13-18 cm (5-7 in) in length.
Habitat:
The woodlands of east Texas make up the habitat of S. miliarius, with standing or running water being frequently found nearby.
Conservation Status:
The pygmy rattlesnake is not a protected species in Texas and can be legally collected with a hunting license.
Texas Distribution:
Sistrurus miliarius is present in the woodlands and pines found only in the extreme eastern portions of the state.
Distribution Map: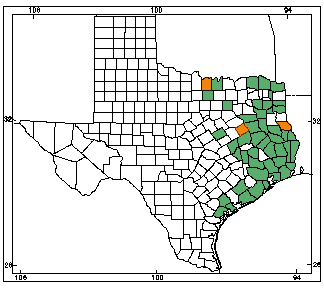 Orange counties indicate new county records since previous Herps of Texas update in 1998; all other colored counties reflect known distribution prior to 1998 for species and/or subspecies. Map is based on museum voucher specimens.