Scientific Name:
Crotalus viridis
Diagnostic Features:
Undivided anal scale.
Dorsal scales extremely keeled, often in rows of 25-27 near midbody.
Coloration:
Body has overall dorsal color ranging from tan to light brown.

35-55 contrasting dark brown oval vertebral blotches that run the length of the body.

Blotches flatten out into narrow crossbands on the tail.

An additional row of faint brown blotches can be seen laterally, though greatly obscured in many individuals.

Belly is off-white and is unpigmented.

Two light colored facial stripes, bordering both sides of a dark subocular stripe.

A series of light facial stripes also run in front of, and behind the eye, contrasting with the more darkly colored head; posteriormost light stripe does not extend into the corner of the mouth.
Size:
Adults up to 91.5 cm (36 in); record length is more than 119 cm (47 in).
General Distribution:
In the United States, Crotalus viridis is found in New Mexico, Texas, Colorado, Oklahoma, Kansas, Wyoming, Montana, and both North and South Dakota. A few populations extend into portions of northern Mexico and southwestern Canada.
Behavior:
Rattlesnakes are not generally aggressive and will likely flee if given a chance. They are of course poisonous, and should be treated with great respect. It is a nocturnal species when encountered in the trans-Pecos region, though populations in the Panhandle may also be active in the early morning hours around dawn, as well as around dusk. In extreme northern U.S. populations, C. viridis may be entirely diurnal, because nightime temperatures often drop to cold extremes. In certain areas, the number of appropriate rocky crevices and caves for winter hibernation are limited. Because of these scarce sites, hibernation sites or dens are often shared by more than one animal during the winter. These dens may hold as many as twenty or so snakes when found in the Panhandle, whereas dens found in colder extremes of Wyoming and Colorado may contain hundreds of snakes. It is important to also note that it is not uncommon to find both venomous and non-venomous snakes sharing the same den site.
Reproduction:
Female prairie rattlesnakes give live birth to as many as 14 young, averaging 24 cm (9.5 in) in length, in August, September and October.
Habitat:
Crotalus viridis is a prairie specialist (as indicated by its common name) and feeds upon many of the birds and mammals found in these grasslands; juvenile prairie rattlesnake will additionally feed on lizards.
Conservation Status:
The prairie rattlesnake is not a protected species in Texas and can be legally collected with a hunting license.
Texas Distribution:
C. viridis is found in the western portions of the state, from the Panhandle, to portions of the Trans-Pecos and the Stockton Plateau.
Distribution Map: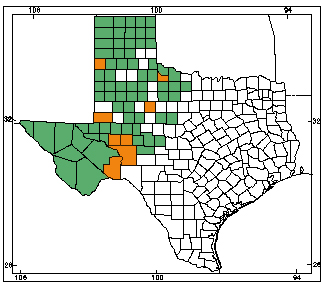 Orange counties indicate new county records since previous Herps of Texas update in 1998; all other colored counties reflect known distribution prior to 1998 for species and/or subspecies. Map is based on museum voucher specimens.