Scientific Name:
Sceloporus undulatus
Diagnostic Features:
Long tail, up to 1 1/2 times the head-body length.
Coloration:
The three subspecies of Sceloporus undulatus found in Texas are differentiated by their dorsal color pattern:

They may have light longitudinal stripes running the length of their body or they may be mostly gray or brown with no distinctive pattern of longitudinal stripes.
Size:
Sceloporus undulatus reach lengths of 9-17.5 cm (3.5-7 in) in total length, including tail.
General Distribution:
In North America, Sceloporus undulatus is found from parts of New York to South Carolina to South Dakota, Arizona, and northern Mexico.
Behavior:
Sceloporus undulatus is a diurnal lizard species that feeds on a variety of insects. S. u. consobrinus is terrestrial in open areas, but can be arboreal in wooded areas of its range. S. u. garmani is terrestrial and seeks shelter in animal burrows when threatened. S. u. hyacinthinus is arboreal and climbs to avoid predators; this subspecies hibernates during the coldest part of the winter.
Reproduction:
Sceloporus undulatus breeds in spring and summer. More mature females may lay several egg clutches per year.
Habitat:
Sceloporus undulatus can be found in a variety of habitats across the state. Typically S. u. consobrinus prefers rocky areas which provide shelter and basking surfaces. S. u. garmani prefers sandy areas with brushy vegetation and S. u. hyacinthinus is commonly seen on fences, logs, and stumps.
Conservation Status:
The prairie lizard is not a protected species in Texas and can be legally collected with a hunting license.
Texas Distribution:
The three subspecies of Sceloporus undulatus found in Texas are found across the majority of the state.
Distribution Map: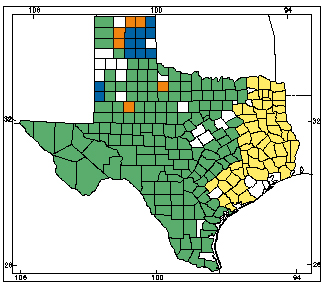 Orange counties indicate new county records since previous Herps of Texas update in 1998; all other colored counties reflect known distribution prior to 1998 for species and/or subspecies. Map is based on museum voucher specimens.