Scientific Name:
Lampropeltis calligaster
Diagnostic Features:
Undivided anal plate.
Smooth dorsal scales in rows of 25 or 27 at midbody.
Coloration:
Background color of tan or grey.

Patterned with around 60 dark rhomboidal blotches down its spine.

These large blotches have darkened borders and may occassionally be split into two small blotches.

Also two alternating rows of smaller brown spots along each side of the body, with these spots frequently fusing together.

Ventral surface is yellowish with brown, square-shaped blotches.

The markings of adults become much less distinct with age.
Size:
Adults prairie kingsnakes reach lengths of 61-106.5 cm (24-42 in).
General Distribution:
Lampropeltis calligaster is found throughout most of the southcentral U.S., from Indiana and Nebraska, south to Texas and portions of Louisiana and east to Virginia to Florida.
Behavior:
Reclusive snakes, prairie kingsnakes are generally seen while they are out foraging, this being around dusk during the spring and fall months, but switching to night during the hottest months of the summer. As generalists, they will feed on a variety of prey, including other snakes, lizards, rodents, lizards, and frogs. They are non-venomous, constricting the prey in order to disable it. Prairie kingsnake are generally even-tempered when handled, but when they are first picked up and feel threatened, they will frequently vibrate their tails.
Reproduction:
They are egg-layers, depositing clutches of 6-17 eggs in the early summer. The hatchlings are strongly spotted when they emerge from their eggs in August and September, measuring 26-28 cm (10-11 in).
Habitat:
The prairie kingsnake is an uncommonly seen snake of open grasslands and woodlands, spending most of its life underground in burrows or under rocks. Typical habitats for prairie kingsnakes range from cultivated fields and pastures, mixed woodlands and open meadows, to rocky ledges and bottom lands.
Conservation Status:
The prairie kingsnake is not a protected species in Texas and can be legally collected with a hunting license.
Texas Distribution:
The single subspecies of prairie kingsnake found in Texas, Lampropeltis c. calligaster, is found in the eastern half of the state, with some populations found in the eastern Panhandle and isolated populations found in south Texas.
Distribution Map: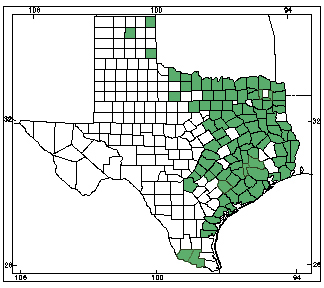 Map is based on museum voucher specimens.