Scientific Name:
Trachemys scripta
Diagnostic Features:
Carapace oval and weakly keeled with slight posterior serrations.

Unhinged plastron.

Upper jaw medially notched.

Webbed feet.

Males without elongated toenails on forelimbs.
Coloration:
Carapace olive-brown with varying pattern of yellow and orange lines on the pleural and vertebral scutes; pattern can be reticulate or simple, with stripes and bars to ocelli.

Plastron yellow that may have a single blotch on each anterior scute.

Skin is light green or brown.

Conspicuous head and neck markings; wide red postorbital oval blotch bordered by black pigment contacting rear of eye.

Yellow arrow on top of head formed by stripe across snout and supratemporal stripes.

Limbs with narrow yellow stripes.

Narrow chin stripes; medial stripe forming V shape on neck.

Males become melanistic with age.
Size:
Trachemys scripta reach average carapace lengths of 20 cm (8 in) in males and 28 cm (11 in) in females.
General Distribution:
In North America, Trachemys scripta is found across most the eastern half of the United States, save New England and the Florida peninsula.
Behavior:
The pond slider, or red-eared slider, is a basking turtle common across most the state. This species frequently moves between bodies of water after large rains. Some can be found over a mile from the nearest body of water. Omnivorous, pond sliders eat everything from vegetation, to arthropods, mollusks, and small vertebrates.
Reproduction:
Nesting occurs between April and July. Females lay 2-23 eggs per clutch and may lay as many as five clutches per year. Incubation is 60-80 days.
Habitat:
The pond slider is most at home in lakes, ponds, or slow-moving rivers with lots of available basking sites and aquatic vegetation.
Conservation Status:
The pond slider is not a protected species in Texas and can be legally collected with a hunting license.
Texas Distribution:
The single subspecies in Texas, Trachemys s. elegans, is native across most the eastern three-quarters of the state.
Distribution Map: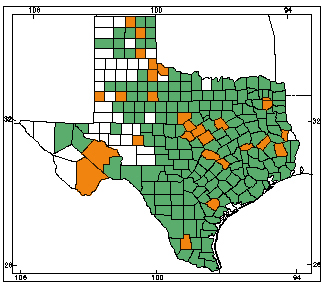 Orange counties indicate new county records since previous Herps of Texas update in 1998; all other colored counties reflect known distribution prior to 1998 for species and/or subspecies. Map is based on museum voucher specimens.