Scientific Name:
Leptotyphlops dulcis
Diagnostic Features:
Vestigial eyes present as two dark spots on either side of head.

Stubby, short tail.

Three scales on top of head between ocular scales.

Single upper labial scale between eye scale and lower nasal scale.

14 rows of smooth scales around body; all scales (belly and dorsal) similar size.
Coloration:
Gray to pink below and light brown, reddish-brown, or dull pink above.
Size:
Adult Leptotyphlops dulcis average 12.5-20 cm (5-8 in); record size is 27 cm (10.5 in).
General Distribution:
In the United States, Leptotyphlops dulcis is found from Oklahoma to northern Mexico.
Behavior:
Nocturnal, the plains threadsnake is infrequently found above ground. Soaking rains often force snakes above ground to escape flooded burrows. This species burrows underground in search of its prey. Threadsnakes feed on a variety of invertebrates, ranging from termites and ants (both adults and larvae) to spiders and millipedes.
Reproduction:
Females lay eggs (2-7) in June and July. Hatchlings are born about two months later and measure 6-7.5 cm (2.5-3 in) in length.
Habitat:
The plains threadsnake is found in arid regions in places where moisture tends to collect and soil is loose or sandy.
Conservation Status:
The plains threadsnake is not a protected species in Texas and can be legally collected with a hunting license.
Texas Distribution:
In Texas, the single subspecies of Leptotyphlops dulcis found in the state, L. d. dulcis, is present in the middle third of the state from the Red River to the Mexico border.
Distribution Map: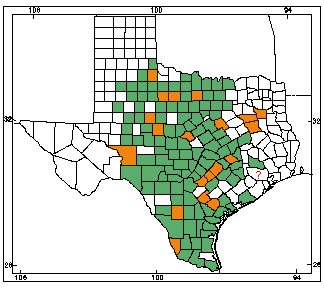 Orange counties indicate new county records since previous Herps of Texas update in 1998; all other colored counties reflect known distribution prior to 1998 for species and/or subspecies. Map is based on museum voucher specimens.