Scientific Name:
Spea bombifrons
Diagnostic Features:
Stout toad with prominent boss between eyes (absent in S. multiplicata).

Vertical pupils.

Hind limbs have webbed toes and single, wedge-shaped tubercle, or spade on inner surface (sickle-shaped in Scaphiopus).
Coloration:
Dorsal coloration varies from gray to brown, sometimes with four vague light-stripes running length of dorsum.

Dark pigment may surround red or yellow warts on dorsum.

White ventral surface.
Size:
Spea bombifrons grows to an adult size of 4-7 cm (1.5-2.5 in).
General Distribution:
In North America, Spea bombifrons is found from Canada south through the Great Plains into northern Mexico.
Behavior:
Spea bombifrons is nocturnal, but is rarely seen without rain. It burrows deeply underground backwards using its hind feet.
Reproduction:
Breeding in Spea bombifrons takes place from May to August following strong rains. Eggs hatch within 48 hours and the tadpoles develop quickly into small toadlets, sometimes in less than two weeks.
Habitat:
Spea bombifrons makes its home in arid regions with loose soil, grasslands, and cultivated fields.
Conservation Status:
The Plains spadefoot is not a protected species in Texas and can be legally collected with a hunting license.
Texas Distribution:
In Texas, Spea bombifrons is found in the Panhandle and the western tip of the state; a disjunct population is also present in far south Texas.
Distribution Map: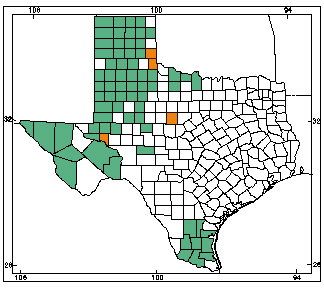 Orange counties indicate new county records since previous Herps of Texas update in 1998; all other colored counties reflect known distribution prior to 1998 for species and/or subspecies. Map is based on museum voucher specimens.