Scientific Name:
Rana blairi
Diagnostic Features:
Dorsolateral folds broken and inset medially at the hip.

Extensively webbed toes.

Male vocal sac with longitudinal folds.
Coloration:
Dorsal color usually brown.

Several rows of irregularly placed dark spots between light dorsolateral folds, with dark spots outlined by lighter color.

Distinct light line along upper jaw and dark snout spot.

Light spot on tympanum.

Yellow coloration in groin and ventral surface of thighs.
Size:
Rana blairi reaches an adult length of 5-7 cm (2-3.2 in).
General Distribution:
In North America, Rana blairi is found in an arching band from western Illinois to north Texas.
Behavior:
Rana blairi is nocturnal and feeds on variety of insects and almost anything smaller than itself.
Reproduction:
Breeding in Rana blairi can occur year-round if warm rains are present.
Habitat:
Rana blairi is found in arid environments and can be seen in plains and prairies, along streams, and on the edges of ponds.
Conservation Status:
The plains leopard frog is not a protected species in Texas and can be legally collected with a hunting license.
Texas Distribution:
In Texas, Rana blairi is present in the Panhandle and the north-central portions of the state.
Distribution Map: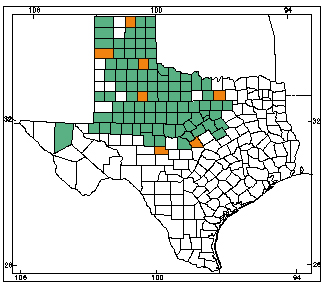 Orange counties indicate new county records since previous Herps of Texas update in 1998; all other colored counties reflect known distribution prior to 1998 for species and/or subspecies. Map is based on museum voucher specimens.