Scientific Name:
Thamnophis radix
Diagnostic Features:
Keeled dorsal scales, in a maximum 21 rows near midbody.
Undivided anal plate.
Coloration:
Pattern of dark dorsal blotches, distributed in a checkerboard manner.

Series of three dorsal stripes that run the length of the body; one of these stripes is found middorsally and is not obscured by any of the black dorsal blotches.

The lateral stripes are placed on the third and fourth dorsal scale rows, with blotches present above and below the lateral stripe.

Brown or green background color, with a row of dark blotches along each side of the belly.

White labial scales are outlined with dark pigment.
Size:
Adult lengths of Thamnophis radix average 38-71 cm (15-28 in).
General Distribution:
Thamnophis radix is found throughout much of the midwestern U.S., as well as portions of northern Canada.
Behavior:
Thamnophis radix is a non-venomous snake, and will not bite unless provoked and handled. It feeds on frogs, insects, earthworms and mice. The snakes themselves are often prey for hawks. In certain areas of its range, T. radix is the most common snake, yet in Texas, it is infrequently encountered.
Reproduction:
Breeding takes place in the fall, with the young Thamnophis radix born the following summer. When born, as many as 60 young snakes (an unsubstantiated record lists 92) may emerge from their mother during the late summer months. The neonate snakes are no more than 19 cm (7.5 in) in length.
Habitat:
Thamnophis radix lives in the lowland prairies and associated habitats near and around water.
Conservation Status:
The plains gartersnake is not a protected species in Texas and can be legally collected with a hunting license.
Texas Distribution:
Texas is at the southern limits of the distribution of Thamnophis radix; a single subspecies, T. r. haydeni, is found only in the extreme northern portions of the Panhandle.
Distribution Map: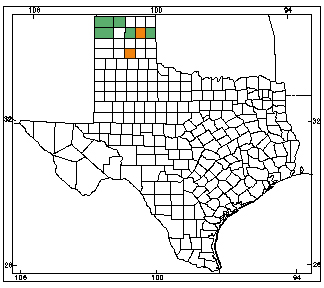 Orange counties indicate new county records since previous Herps of Texas update in 1998; all other colored counties reflect known distribution prior to 1998 for species and/or subspecies. Map is based on museum voucher specimens.