Scientific Name:
Tantilla nigriceps
Diagnostic Features:
Seven supralabials.
Smooth dorsal scales (15 rows at midbody).
Divided anal plate.
Coloration:
Tan (sometimes brown or grey) dorsal background.

Reddish midventral coloration.

Black cap on top of head that extends to a point two to five dorsal scale rows behind the head; this cap does not extend below the corner of the mouth.
Size:
Tantilla nigriceps is small, reaching lengths of 18-35.5 cm (7-14 in) upon maturity, though in Texas, it is one of the largest members of the genus Tantilla.
General Distribution:
The range of Tantilla nigriceps includes much of Texas and portions of New Mexico, Oklahoma, Kansas, Colorado, Nebraska and Arizona. Portions of its range also extend into northern Mexico.
Behavior:
Tantilla nigriceps is an efficient predator of arthopods, specializing in the consumption of centipedes and spiders. It is also immune to the venom produced by centipedes, which is undoubtably injected into the snake during the centipede's capture and subsequent ingestion by the snake. It is harmless to humans and can be handled safely by people.
Reproduction:
Tantilla nigriceps is an egg-layer, like other Tantilla species, with eggs laid in the the early part of the summer after breeding takes place during late April and May. The young hatch in the later portions of the summer.
Habitat:
The plains black-headed snake prefers microhabitats which can retain high levels of moisture, such as under stones, logs, and other piles of debris; it is found in a variety of macrohabitats, ranging from the grasslands to the deserts, but are only seen when the appropriate areas of higher moisture are present. Its nocturnal habits, however, make it infrequently seen in the open, with most sightings of the snake occurring under rocks and logs.
Conservation Status:
The plains black-headed snake is not a protected species in Texas and can be legally collected with a hunting license.
Texas Distribution:
The single subspecies of Tantilla nigriceps found in Texas, T. n. nigriceps, is present across the western two-thirds of the state.
Distribution Map: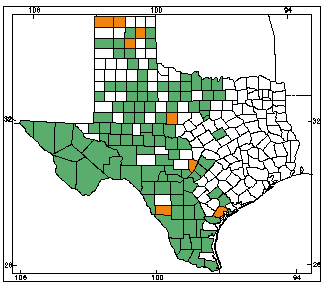 Orange counties indicate new county records since previous Herps of Texas update in 1998; all other colored counties reflect known distribution prior to 1998 for species and/or subspecies. Map is based on museum voucher specimens.