Scientific Name:
Nerodia erythrogaster
Diagnostic Features:
23-27 keeled dorsal scale rows near midbody.
Divided anal plate.
Coloration:
Superficially looks like many other species of water snakes, with a dark olive or gray dorsal coloration.

There are two subspecies of N. erythrogaster found in Texas, distinguished by their dorsal and ventral color patterns.
Size:
Adult sizes of Nerodia erythrogaster are also typical of many species of Nerodia (adults 76-122 cm [30-48 in]).
General Distribution:
The range of Nerodia erythrogaster, including the four subspecies found in the U.S., stretches across much of the southeastern U.S., found from the east coast of the Atlantic to the southeast corner of New Mexico. Isolated populations are also present as far north as Ohio and Michigan. The range of N. e. transversa extends into northern Mexico and additional subspecies are found through the eastern portions of that country.
Behavior:
Adults of both subspecies feed primarily on fish and amphibians, whereas juveniles often feed on tadpoles, small fish, and invertebrates. Nerodia erythrogaster has been found foraging both at night and during the day, though it is much more nocturnal in the western part of its range. Though non-venomous, N. erythrogaster will not hesitate to strike and bite an attacker, and will often release a terrible smelling musk to complement its defense. During the day, N. erythrogaster can be found basking on branches and vegetation overhanging the water. This allows for a quick escape into the water and a startled snake will frequently drop into the water and swim across to the opposite bank to seek refuge.
Reproduction:
As it is a viviparous snake, Nerodia erythrogaster will give birth to an average of 16 live snakes in August and September. The juveniles of both subspecies, measuring 19-33 cm (7.5-13 in) at birth, look different than their parents, having a series of brown saddles middorsally on a tan or pink dorsal background.
Habitat:
The two Texas subspecies of Nerodia erythrogaster are commonly found near slow moving portions of rivers and streams, though N. e. transversa is more arid adapted, found in tanks and ponds in parts of the arid Trans-Pecos. Nerodia e. flavigaster is often seen in marshes, swamps and flooded woodlands.
Conservation Status:
The plain-bellied watersnake is not a protected species in Texas and can be legally collected with a hunting license.
Texas Distribution:
In Texas, the two subspecies of Nerodia erythrogaster, are found throughout much of Texas, save the western half of the Panhandle and the most arid regions of the western Trans-Pecos. The two subspecies intergrade regularly along the borders of their ranges, especially in the southeastern corner of the state, east of Houston.
Distribution Map: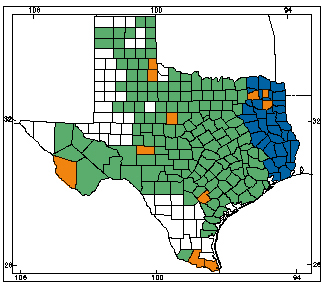 Orange counties indicate new county records since previous Herps of Texas update in 1998; all other colored counties reflect known distribution prior to 1998 for species and/or subspecies. Map is based on museum voucher specimens.