Scientific Name:
Rana grylio
Diagnostic Features:
Hind feet are fully webbed (not so in R. catesbeiana).

dorsolateral folds absent.

Narrow and pointed head.

Prominent tympanum.
Coloration:
Dorsal surface varies from olive to dark brown with prominent dark dorsal spots.

Ventral surfaces white or pale yellow with gray mottling on thighs.
Size:
Rana grylio is a large frog species, reaching 8-13 cm (3.2-5.5 in).
General Distribution:
In North America, Rana grylio is found in the southern U. S., from South Carolina to east Texas.
Behavior:
Rana grylio is nocturnal and usually difficult to approach. The pig frog is territorial and feeds primarily on crawfish, but eats minnows, snakes, and smaller frogs.
Reproduction:
Breeding in Rana grylio takes place from March to September.
Habitat:
Rana grylio is seen in large bodies of water, such as lakes and marshes amid floating vegetation.
Conservation Status:
The pig frog is not a protected species in Texas and can be legally collected with a hunting license.
Texas Distribution:
In Texas, Rana grylio is restricted to the southeastern corner of the state.
Distribution Map: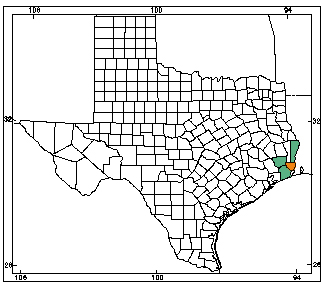 Orange counties indicate new county records since previous Herps of Texas update in 1998; all other colored counties reflect known distribution prior to 1998 for species and/or subspecies. Map is based on museum voucher specimens.