Scientific Name:
Rana palustris
Diagnostic Features:
Smooth skin with poison-secreting glands.
Coloration:
Typically light brown dorsal surface.

Light line along upper jaw.

Square, dark dorsal spots outlined in white and arranged in parallel lines.

Banded dorsal surface of hind legs with yellow or orange coloration on concealed surfaces of rear limbs.

Ventral surfaces white with dark mottling.
Size:
Rana palustris grows to 4-7.5 cm (1.8-3 in) as an adult.
General Distribution:
In North America, Rana palustris is found from the Canadian maritime provinces south to the Carolinas, and westward from Minnesota to Texas.
Behavior:
Rana palustris is nocturnal and hibernates from October to March. In some cases it will secrete a toxin from its skin if disturbed.
Reproduction:
Breeding in Rana palustris occurs after emerging from hibernation in March and continues to May. Egg masses are attached to underwater vegetation.
Habitat:
Rana palustris prefers clear, cool water environments and is found in ravines, streams, and the warm waters of coastal plain swamps.
Conservation Status:
The pickerel frog is not a protected species in Texas and can be legally collected with a hunting license.
Texas Distribution:
In Texas, Rana palustris can be found in the eastern third of the state.
Distribution Map: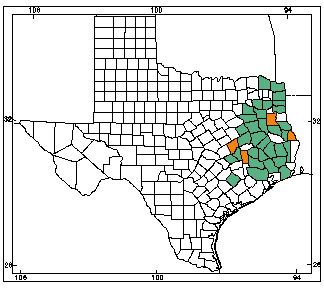 Orange counties indicate new county records since previous Herps of Texas update in 1998; all other colored counties reflect known distribution prior to 1998 for species and/or subspecies. Map is based on museum voucher specimens.