Scientific Name:
Chrysemys picta
Diagnostic Features:
Smooth, unkeeled shell.

Rear of carapace smooth (no serration).

Notched upper jaw.

Unhinged plastron.
Coloration:
Shells are combination of red, yellow, and black or dark green.

Painted turtles in east Texas have a broad orange or red stripe down the back with a yellow plastron; painted turtles in west Texas have a light yellow net-like pattern across their carapace with light vertical lines on their marginal scutes with the center of their yellow plastron pigmented.

Skin black to olive, with legs, neck and head striped with red and yellow.

Chin with two yellow stripes.

Head with yellow stripe extending downward behind eye.

Large yellow spot and streak behind eye.
Size:
Adult Chrysemys picta have carapace lengths up to 25 cm (10 in), though the average size is between 10-18 cm in Texas (4-7 in).
General Distribution:
In North America, Chrysemys picta is found across the United States as well as southern Canada, from the Pacific Coast to the Atlantic versant. Its discontinuous range across the continent includes isolated populations in Arizona, New Mexico, and Texas as well as adjacent populations in Chihuahua, Mexico.
Behavior:
Painted turtles are diurnal, basking during much of the day, essentially whenever they are not feeding. Painted turtles eat a wide variety of prey from insects and crayfish to mollusks and aquatic vegetation.
Reproduction:
Mating usually occurs March through June with females laying 4-20 eggs. Females may lay two to three clutches of eggs each year. Eggs take 70-80 days to hatch; hatchling painted turtles have keeled shells.
Habitat:
A freshwater species, the painted turtle prefers slow-moving creeks, ponds, and shallow lakes where aquatic vegetation, soft muddy bottoms, and basking sites are plentiful.
Conservation Status:
The painted turtle is not a protected species in Texas and can be legally collected with a hunting license.
Texas Distribution:
In Texas, the two subspecies of Chrysemys picta are found at opposite ends of the state: C. p. belli is found in El Paso and northern Culberson counties; C. p. dorsalis is found in a handful of counties along the Cypress and Sabine River drainages in northeastern Texas.
Distribution Map: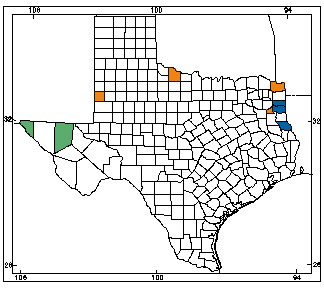 Orange counties indicate new county records since previous Herps of Texas update in 1998; all other colored counties reflect known distribution prior to 1998 for species and/or subspecies. Map is based on museum voucher specimens.