Scientific Name:
Urosaurus ornatus
Diagnostic Features:
Single throat fold and two folds along each side of body.

Series of enlarged dorsal scales down midline interspersed with small, tiny scales.

Two subspecies differentiated by size of enlarged dorsal scales

Long, slender tail.
Coloration:
Dorsal ground color gray to brown.
Dorsal pattern consists of a mottled pattern of dark blotches and crossbars, some of which may be edged in light blue.
Yellow or light orange gular.
Males with two blue belly patches and blue patch or blue scales on orange throat.
Size:
Urosaurus ornatus reaches adult lengths of 10-15 cm (4-6 in), including tail length.
General Distribution:
In North America, Urosaurus ornatus is found from Utah and Colorado, through the southwestern deserts into northern Mexico and along the Pacific Coast of Mexico.
Behavior:
This diurnal lizard is quick and wary. Urosaurus ornatus is well camouflaged on tree trunks and branches, but will climb higher to avoid being captured. This species forages in the mornings and late afternoons for insects.
Reproduction:
Large egg clutches are laid in the spring and summer. Two clutches of eggs (averaging 6 eggs/clutch) can be laid each year.
Habitat:
Urosaurus ornatus is an arboreal lizard, preferring trees, fallen limbs, rocks, and fence posts.
Conservation Status:
The ornate tree lizard is not a protected species in Texas and can be legally collected with a hunting license.
Texas Distribution:
In Texas, the two subspecies of Urosaurus ornatus are found in central and west Texas.
Distribution Map: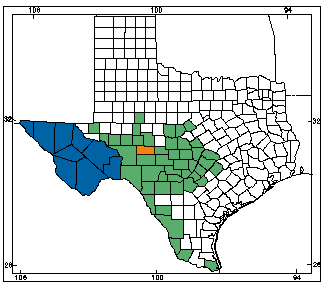 Orange counties indicate new county records since previous Herps of Texas update in 1998; all other colored counties reflect known distribution prior to 1998 for species and/or subspecies. Map is based on museum voucher specimens.