Scientific Name:
Nerodia sipedon
Diagnostic Features:
Dorsal scales keeled, in rows of 23 at midbody.
Divided anal plate.
Coloration:
Dorsal color dark brown to reddish brown.

Crossbands complete on neck and anterior quarter of body; crossbands broader dorsally, narrower laterally.

Crossbands broken in posterior portion of body, intermixed with lateral bars.

Wide interspaces tan, reddish-brown, or gray-brown.

Dorsal pattern may fade and become indistinct with age.

Ventral surface marked with two rows of red or reddish-brown half moons.

Head unmarked (brown) save pigment outlining labial scales.
Size:
Adult Nerodia sipedon average 55-100 cm (22-40 in) total length.
General Distribution:
In North America, Nerodia sipedon is found across the U.S. Midwest and East Coast.
Behavior:
Like most watersnakes, the northern watersnake is extremely wary and will dive into water to escape potential predators. When cornered and threatened, this watersnake will flatten its entire body and will proceed to vigorously lunge and try to bite its aggressor. Watersnakes are notorious for producing copious amounts of foul smelling musk in an attempt to drive off predators. Fish and amphibians make up the majority of the northern watersnake\'s diet.
Reproduction:
Live young are born in late summer with litter sizes ranging from 8-46. Neonate snakes measure 19-30 cm (7.5-12 in) at birth.
Habitat:
The northern watersnake prefers slow-moving streams and rivers with gravel bottoms, but may be found in swamps, marshes, lakes and ponds.
Conservation Status:
The northern watersnake is not a protected species in Texas and can be legally collected with a hunting license.
Texas Distribution:
The presence of Nerodia sipedon in Texas is based on two specimens collected in Grayson County along the Red River; the two specimens are assigned to the subspecies N. s. pleuralis and it is not known whether this taxon still persists in Texas.
Distribution Map: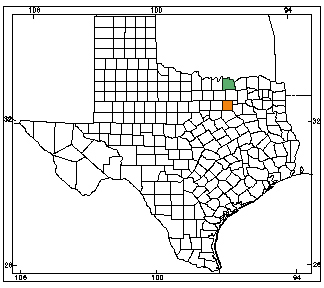 Orange counties indicate new county records since previous Herps of Texas update in 1998; all other colored counties reflect known distribution prior to 1998 for species and/or subspecies. Map is based on museum voucher specimens.