Scientific Name:
Acris crepitans
Diagnostic Features:
Small frog with long snout.
Short hind legs with webbed toes.
Coloration:
Dark bars on hind limbs.
Characteristic backward-pointing pigmented triangle on top of head.
Three subspecies in Texas, differentiated by dorsal coloration and shape of snout.
Size:
One of the smaller frog species in Texas, adult Acris crepitans grow to 1.25-3.5 cm (0.5-1.5 in) in length.
General Distribution:
In North America, Acris crepitans has a broad range extending through most of the southern and midwestern U. S.
Behavior:
Acris crepitans is diurnal and active all year. This species can be seen basking in the sunlight, but when threatened, it will jump quickly away or into the water.
Reproduction:
Breeding in Acris crepitans occurs over an extended period, lasting from February through late summer.
Habitat:
Acris crepitans prefers shallow ponds with vegetation and full sun or shallow gravel-lined creeks. Near the Gulf Coast, A. crepitans can be found in shallow pools of brackish water in close proximity to the sea.
Conservation Status:
The northern cricket frog is not a protected species in Texas and can be legally collected with a hunting license.
Texas Distribution:
In Texas, Acris crepitans is found throughout most of the state, except the western Panhandle and extreme western Trans-Pecos.
Distribution Map: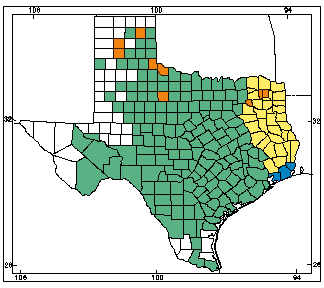 Orange counties indicate new county records since previous Herps of Texas update in 1998; all other colored counties reflect known distribution prior to 1998 for species and/or subspecies. Map is based on museum voucher specimens.