Scientific Name:
Aspidoscelis neomexicana
Diagnostic Features:
Slender lizard with a comparatively long tail, about 3 times the head-body length.

Small, granular dorsal scales and eight rows of large, rectangular scales on the belly.
Coloration:
Dorsal ground color is dark brown to black.

Dorsal pattern consists of seven pale yellow stripes with the wavy middorsal stripe forked at the head. Light spots occur between the stripes.

Pale blue or blue-green throat.

Belly is white or pale blue.

Tail gray at base, changing to green, blue, or brown.
Size:
Aspidoscelis neomexicana can reach total lengths of 16-24 cm (6.5-9.5 in) as adults.
General Distribution:
In North America, Aspidoscelis neomexicana has a small and narrow range in the Rio Grande Valley from Santa Fe, New Mexico to Presidio County, Texas and adjacent Mexico.
Behavior:
This diurnal lizard forages for insects among vegetation and will retreat to protective cover if approached.
Reproduction:
Aspidoscelis neomexicana is an all-female species; there are no males in this species. Reproduction occurs through parthenogenesis. Two to four unfertilized eggs are laid in the summer. Hatchlings appear about two months later. Hatchlings with bright blue tail.
Habitat:
Aspidoscelis neomexicana prefers sandy areas with little vegetation, but can be seen in grasslands, shrublands, and pinon-juniper wooded uplands. This species also can be seen in disturbed areas, such as along fence rows within its range.
Conservation Status:
The New Mexico whiptail is not a protected species in Texas and can be legally collected with a hunting license.
Texas Distribution:
In Texas, Aspidoscelis neomexicana is found along the Rio Grande in far west Texas from El Paso County to Presidio County.
Distribution Map: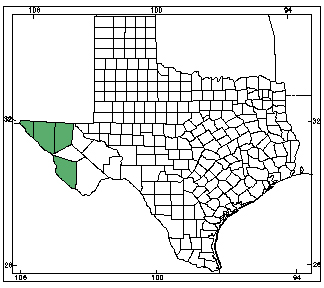 Orange counties indicate new county records since previous Herps of Texas update in 1998; all other colored counties reflect known distribution prior to 1998 for species and/or subspecies. Map is based on museum voucher specimens.