Scientific Name:
Ambystoma talpoideum
Diagnostic Features:
Large head and relatively short tail.

Four toes on forelimbs, and five on hind limbs.

Ten or eleven costal grooves.
Coloration:
Dorsal color is black, brown, or gray with scattered bluish-white flecks.

Gray ventral surface.
Size:
Ambystoma talpoideum reach an adult total length between 8-12 cm (3.2-5 in).
General Distribution:
In North America, Ambystoma talpoideum is found from South Carolina to Florida, west to Texas and Oklahoma.
Behavior:
Ambystoma talpoideum burrows in loose soil and remains underground except during breeding season.
Reproduction:
Breeding in Ambystoma talpoideum occurs from December to February after cold rains. Females lay up to 400 eggs in small masses in shallow pools.
Habitat:
Ambystoma talpoideum can be seen in lowland, moist, wooded areas with soil suitable for burrowing, in mammal burrows, or under logs.
Conservation Status:
The mole salamander is not a protected species in Texas and can be legally collected with a hunting license.
Texas Distribution:
In Texas, Ambystoma talpoideum is found in two populations in east Texas: one along the Red River and the other along the Texas/Louisiana border.
Distribution Map: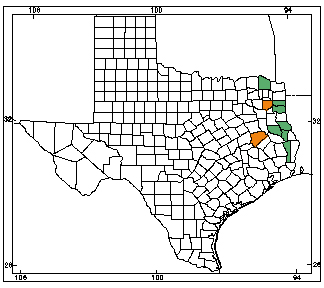 Orange counties indicate new county records since previous Herps of Texas update in 1998; all other colored counties reflect known distribution prior to 1998 for species and/or subspecies. Map is based on museum voucher specimens.