Scientific Name:
Crotalus scutulatus
Diagnostic Features:
Undivided anal scale.
Dorsal scales extremely keeled, often in rows of 25 near midbody.
Coloration:
Body is yellowish-tan to light brown above.

Occasionally individuals have an overall greenish tint to their background color, which has resulted in the name "Mojave greens."

Series of dark diamond blotches with light edges, similar to those of the western diamondback (see below), running along the length of the body.

Blotches flatten into bands near the tail.

Belly is slightly pigmented near the edges of the dorsal scales.

Tail is ringed by white and black bands, with white bands twice the width of black bands.

A series of light facial stripes also run in front of, and behind the eye, contrasting with the more darkly colored head.
Size:
Adults may measure 61-90 cm (24-36 in); record length is 129 cm (51 in).
General Distribution:
In the United States, Crotalus scutulatus is found in the southern portions of California, Arizona, New Mexico, and Texas. There are two subspecies of the Mojave Rattlesnake, though only one (C. s. scutulatus) is found in the U.S. The Mojave rattlesnake also has an extensive range in the northern half of Mexico.
Behavior:
Crotalus scutulatus is a nocturnal hunter, feeding on small mammals and lizards. Although all rattlesnakes are venomous and worthy of great respect, this species is particularly dangerous. There are two types of venom found within the distribution of Mojave rattlesnakes. Venom type A, or "Mojave toxin," is quite different than most rattlesnake venoms in that it is neurotoxic, and affects the respiratory and nervous systems of its prey. Venom type B is similar to most other U.S. rattlesnakes in being hemotoxic, effectively destroying tissue around the site of the bite. Venom type B appears to be prevalent in C. scutulatus found within the state of Texas, but snakes with a mixture of both types of venom have been found. Other populations of other species of rattlesnakes have also been found to have small percentages of Mojave toxin present in their venoms as well. Advanced medical treatments save the lives of the hundreds of people bitten by rattlesnakes each year, with much less than 1% of all bites resulting in fatalities. Most of these fatalities are the result of delays from seeking medical treatment.
Reproduction:
Crotalus scutulatus is viviparous, giving birth to live young in late July or August, often coinciding with the summer monsoons. There may be as many as nine young, measuring up to 25 cm (10 in) in length.
Habitat:
Found primarily in the flat deserts and semi-grasslands of the Trans Pecos region of extreme West Texas.
Conservation Status:
The Mojave rattlesnake is not a protected species in Texas and can be legally collected with a hunting license.
Texas Distribution:
Crotalus scutulatus is restricted to the western edges of the state, from El Paso to the Big Bend.
Distribution Map: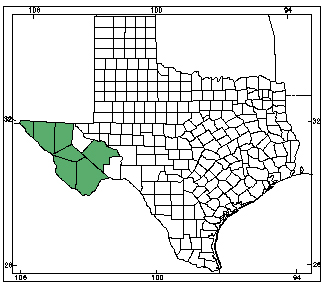 Orange counties indicate new county records since previous Herps of Texas update in 1998; all other colored counties reflect known distribution prior to 1998 for species and/or subspecies. Map is based on museum voucher specimens.