Scientific Name:
Graptemys kohni
Diagnostic Features:
Elliptical carapace with serrated posterior edge and vertebral keel of spine-like projections.

Plastron unhinged.

Webbed feet.

Head narrow with no medial notch or hook on upper jaw.

Males with longer fingernails on forelimbs than females.
Coloration:
Carapace brown to dark green.

Plastron is yellow/cream and lacks pigment, save around margins.

Oval markings (yellow) and blotches (dark) on each pleural scute; marginal surfaces with yellow bulls-eye at seam.

Skin olive or brown; several yellow stripes present on legs, tail, chin and neck.

Yellow crescents behind each eye that keep neck stripes from contacting eye.
Size:
Adult male Graptemys kohni may reach carapace lengths of 15 cm (6 in), with females being larger, reaching 25 cm (10 in).
General Distribution:
In North America, Graptemys kohni is found along the Mississippi River drainage, from Illinois and Missouri to Texas, Louisiana, and Mississippi.
Behavior:
Like other map turtles, the Mississippi map turtle is a diurnal, basking turtle. Wary of predators, this species will slide from their basking perch (log or rock) into water without hesitation. This species is omnivorous, feeding on aquatic vegetation as well as insects, insect larvae, and mollusks. Females may be more dependent than males on mollusks for food.
Reproduction:
Mating may occur during different times of the year. Females can lay up to three clutches of eggs each year, each clutch consisting of 8-22 eggs. Incubation is 50 to 80 days.
Habitat:
The Mississippi map turtle prefers slow moving waters with abundant aquatic vegetation.
Conservation Status:
The Mississippi map turtle is not a protected species in Texas and can be legally collected with a hunting license.
Texas Distribution:
In Texas, Graptemys kohni is found across the wet northeastern corner of the state.
Distribution Map: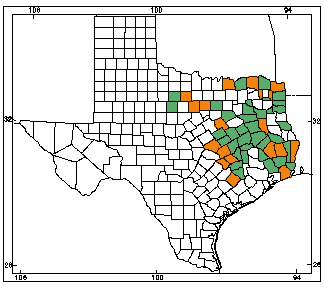 Orange counties indicate new county records since previous Herps of Texas update in 1998; all other colored counties reflect known distribution prior to 1998 for species and/or subspecies. Map is based on museum voucher specimens.