Scientific Name:
Leptodactylus fragilis
Diagnostic Features:
Rather pointed head.

Dorsolateral folds present along torso and circular ventral disk is present on belly (as in E. augusti).
Coloration:
Dorsal color varies from gray to brown with dark dorsal spots of varying sizes.

White or cream colored line present along upper lip.
Size:
Leptodactylus fragilis grows to an adult size of 3-5 cm (1.5-2 in).
General Distribution:
In North America, Leptodactylus fragilis is found from the southern tip of Texas, south through Central America to Venezuela in northern South America.
Behavior:
Leptodactylus fragilis is nocturnal and burrows in the damp soil during the day, foraging at night.
Reproduction:
Breeding in Leptodactylus fragilis takes place during heavy rains in the spring. Eggs are laid in whipped foam secretions in a depression at the base of vegetation near water; tadpoles are protected within this mass, even in dry weather. Tadpoles are "freed" from nest with rains that flood the depression.
Habitat:
The habitat of Leptodactylus fragilis consists of various moist places including roadside ditches, irrigated fields, and low grasslands.
Conservation Status:
The Mexican white-lipped frog is not a protected species in Texas and can be legally collected with a hunting license.
Texas Distribution:
In Texas, Leptodactylus fragilis is restricted to the extreme southern tip of the state in Cameron, Hidalgo and Starr Counties.
Distribution Map: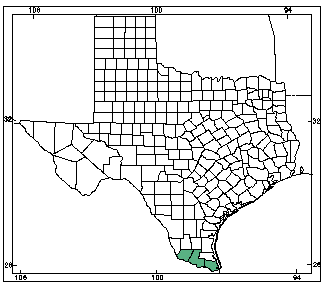 Orange counties indicate new county records since previous Herps of Texas update in 1998; all other colored counties reflect known distribution prior to 1998 for species and/or subspecies. Map is based on museum voucher specimens.