Scientific Name:
Smilisca baudinii
Diagnostic Features:
Large treefrog with smooth skin and large toe pads.

Body forms 'V' shape when at rest.
Coloration:
Dorsal coloration varies from green, gray, yellow, or dark brown.

Individual may change colors to match background.

Light spot under eyes and at base of forelimbs.

Dark patch from snout to eardrum to shoulder.
Size:
Smilisca baudinii reaches an adult size between 5-7 cm (2-2.75 in).
General Distribution:
In North America, Smilisca baudinii is found along the coast of the Gulf of Mexico and inland from South Texas into northern Mexico.
Behavior:
Smilisca baudinii is nocturnal, seeking shelter under loose tree bark or in damp soil during the heat of the day.
Reproduction:
Breeding occurs all year in Smilisca baudinii, but coincident with rainfall.
Habitat:
Smilisca baudinii prefers sub-humid regions and is seen near streams and in resacas. Smilisca baudinii takes shelter underground, under tree bark, or between the sheaths of banana trees during hot or dry times.
Conservation Status:
The Mexican treefrog is considered a threatened species by the Texas Parks and Wildlife Department and is fully protected by the state.
Texas Distribution:
In Texas, Smilisca baudinii is restricted to the extreme southern tip of the state in Cameron and Hidalgo Counties.
Distribution Map: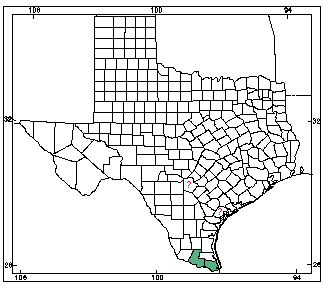 Orange counties indicate new county records since previous Herps of Texas update in 1998; all other colored counties reflect known distribution prior to 1998 for species and/or subspecies. Map is based on museum voucher specimens.