Scientific Name:
Spea multiplicata
Diagnostic Features:
Stout toad with NO boss between eyes (present in S. bombifrons).

Vertical pupils.

Hind limbs have single, wedge-shaped tubercle, or spade on inner surface (sickle-shaped in Scaphiopus).
Coloration:
Dorsal color varies from gray to brown, may also be green or almost black with orange or yellow tipped warts on back.

Four vague light-stripes may run length of dorsum.

Ventral surface white or cream-colored.
Size:
Spea multiplicata reaches an adult size between 4-7 cm (1.5-2.5 in).
General Distribution:
In North America, Spea multiplicata is found in the southwest United States and central Mexico.
Behavior:
Spea multiplicata is nocturnal, but is rarely seen without rain. It burrows deeply underground backwards using its hind feet.
Reproduction:
Breeding in Spea multiplicata occurs from January to August with rain. Eggs hatch within 48 hours and the tadpoles develop quickly in young toadlets in less than 14 days.
Habitat:
Spea multiplicata prefers arid regions with loose, sandy soil, grasslands, and cultivated fields.
Conservation Status:
The New Mexican spadefoot is not a protected species in Texas and can be legally collected with a hunting license.
Texas Distribution:
In Texas, Spea multiplicata is found in west Texas and the Panhandle.
Distribution Map: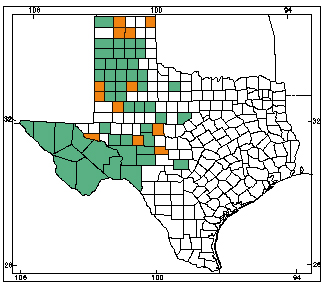 Orange counties indicate new county records since previous Herps of Texas update in 1998; all other colored counties reflect known distribution prior to 1998 for species and/or subspecies. Map is based on museum voucher specimens.