Scientific Name:
Heterodon kennerlyi
Diagnostic Features:
Divided anal plate.
Keeled dorsal scales in rows of 23 at midbody.
Six or fewer azygous scales.
Coloration:
Dorsal ground color is light tan or buff, with a series of large, elliptical blotches down the spine.

A series of small brown spots also runs the length of the body on each side of the body.

The number of azygous scales found behind the upturned rostral on the head can help distinguish this species from H. nasicus, with 9 or more in H. nasicus.

The belly, especially the tail, is black, with patches of white or yellow present.
Size:
Adult Heterodon kennerlyi are typically 38-63.5 cm (15-25 in) in length, though this is one of smallest species of hog-nosed snakes.
General Distribution:
Heterodon kennerlyi is found in Texas, New Mexico, and Arizona, and south into the northern states of Mexico.
Behavior:
Hog-nosed snakes are so named because of their upturned keeled rostral scale. This modification allows them to burrow easily into the soil, either to seek shelter or to seek out their prey. Western hog-nosed snakes are rear-fanged, that is they are venomous, though they pose little threat to humans, even when handled, because of this species reluctance to bite. Occasional bites to humans do occur, usually when a person has been handling toads prior to handling a hog-nosed snake. Human reactions to hog-nosed snake bites can include large amounts of swelling, depending on the duration of the bite. Their venom, though mild to human, is highly effective against its usual prey of frogs, toads, and occassionaly lizards. Young snakes may ingest crickets and other insects. The venom is delivered to the prey by way of enlarged teeth in the rear of the mouth through a chewing motion. Western hog-nosed snakes feed mainly on amphibians and lizards, though they will eat other snakes, small mammals, and occasional birds. Hog-nosed snakes are active in the morning and around dusk during the warmer parts of the year, burrowing in sandy soils during the winter.
Reproduction:
Western hog-nosed snakes are egg-bearing, breeding in alternate years. Clutches range from 4-23 eggs, and are laid in the summer months. Incubation is about two months with hatchlings measuring 15-19 cm (6-7.5 in) in length.
Habitat:
Mexican hog-nosed snakes inhabit a wide variety of areas, but are most commonly found in areas with grasslands and sandy soils in the Trans-Pecos, and mesquite grassland and thorn-scrub habitats in south Texas.
Conservation Status:
The Mexican Hog-nosed Snake is not a protected species in Texas.
Texas Distribution:
Heterodon kennerlyi is found in many counties of the Trans-Pecos and south Texas, following along the Rio Grande from El Paso to south Texas.
Taxonomy Notes:
Heterodon nasicus used to be comprised of three subspecies, however, Smith et al. (2003. J. Kansas Herpetol.) synonymized one subspecies (H. n. gloydi) under Heterodon nasicus and elevated Heterodon kennerlyi to species level.
Distribution Map: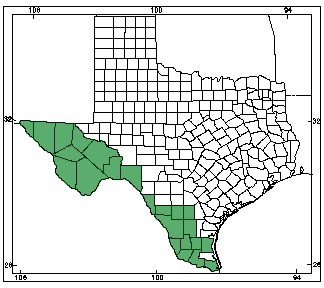 Orange counties indicate new county records since previous Herps of Texas update in 1998; all other colored counties reflect known distribution prior to 1998 for species and/or subspecies. Map is based on museum voucher specimens.