Scientific Name:
Rhinophrynus dorsalis
Diagnostic Features:
Round body with small head and widely spaced small eyes, with vertical pupils.

Small limbs, with hind legs partially enclosed in skin of body, each with tubercle.
Coloration:
Dark brown dorsal surface with red or dark orange middorsal stripe.
Size:
Rhinophrynus dorsalis grows to an adult length of 5-7 cm (2-3 in).
General Distribution:
In North America, Rhinophrynus dorsalis is found from the southern tip of Texas south to the Yucatan Peninsula in Mexico.
Behavior:
Rhinophrynus dorsalis is nocturnal. The Mexican burrowing toad feeds on termites and ants, using its tubercles to dig into their mounds. When threatened or calling, Rhinophrynus dorsalis will inflate its body with air.
Reproduction:
Breeding in Rhinophrynus dorsalis occurs only after heavy rains; reproduction may take place only once a year.
Habitat:
Rhinophrynus dorsalis prefers low areas with loose soil, such as that found in cultivated fields.
Conservation Status:
The Mexican burrowing toad is considered a threatened species by the Texas Parks and Wildlife Department and is fully protected by the state.
Texas Distribution:
In Texas, Rhinophrynus dorsalis is found only in extreme south Texas in Starr and Zapata counties.
Distribution Map: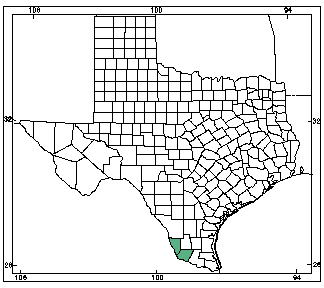 Orange counties indicate new county records since previous Herps of Texas update in 1998; all other colored counties reflect known distribution prior to 1998 for species and/or subspecies. Map is based on museum voucher specimens.