Scientific Name:
Tantilla atriceps
Diagnostic Features:
Smooth dorsal scales (15 rows at midbody).
Divided anal plate.
Seven supralabials.
First set of infralabials often contact each other under the chin.
Coloration:
Typical blackhead snake in that the only dark pigmentation found on its tan dorsal surface is a black cap on its head which extends as far as one or two scales back behind the parietals.

Posterior edge of the black cap is slighly convex or straight and does not extend down to the corner of the mouth.

Some specimens may even have a light colored line separating the back of the cap from the rest of the body.

Ventral surface is red or pink.
Size:
Tantilla atriceps is a thin snake, being no thicker than a pencil, with adult lengths ranging between 12.5-20 cm (5-8 in).
General Distribution:
The U.S. range of Tantilla atriceps is restricted to two counties (Kleburg and Duval) in south Texas. In Mexico, it is found from central Coahuila south to San Luis Potosi, with isolated populations found in Tamaulipas.
Behavior:
Not much is known about the natural history of Tantilla atriceps. It does feed upon centipedes and other insects, being immune to the venom produced by the centipedes. Tantilla atriceps is not considered a danger to humans.
Reproduction:
Tantilla atriceps is an egg layer, though nothing is known about its reproductive natural history.
Habitat:
Tantilla atriceps prefers habitats which are moist, seeking refuge under boards and stones and is found in mountain canyons and desert washes, habitats which have a preponderance of moist refuges.
Conservation Status:
The Mexican black-headed snake is not a protected species in Texas and can be legally collected with a hunting license.
Texas Distribution:
Tantilla atriceps is restricted to Kleburg and Duval Counties
Distribution Map: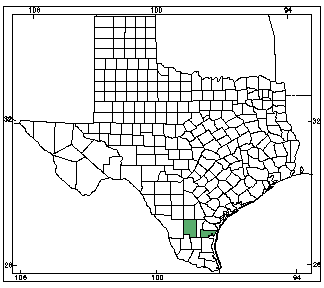 Orange counties indicate new county records since previous Herps of Texas update in 1998; all other colored counties reflect known distribution prior to 1998 for species and/or subspecies. Map is based on museum voucher specimens.