Scientific Name:
Hemidactylus turcicus
Diagnostic Features:
Large, lidless eyes.

Dark colored tubercles on head, body, legs, and tail.

Broad toe pads extending to cover most of toe.
Coloration:
Pale pink or white and translucent with both light and dark spots.

Young may have dark bands on tail that can be retained in adulthood.
Size:
Hemidactylus turcicus grows to lengths of 10-12.5 cm (4-5 in), including tail.
General Distribution:
In North America, Hemidactylus turcicus is found from central Texas south to northern coastal areas of Mexico and on the island of Cuba. Scattered, smaller populations occur in the Gulf States, as well as many southwestern US states, particularly concentrated around urban areas.
Behavior:
Nocturnal; this lizard feeds on insects that gather near light sources at night. It can be territorial and males emit squeaks when defending territory, as well as at other times.
Reproduction:
March through July; one or two eggs are laid.
Habitat:
An introduced species native to the Mediterranean, this gecko can be seen in urban areas on buildings near light sources
Conservation Status:
The Mediterranean house gecko is not a protected species in Texas and can be legally collected with a hunting license.
Texas Distribution:
In Texas, Hemidactylus turcicus is predominantly found in the southern half of the state, although reports indicate populations expanding into areas of north Texas.
Distribution Map: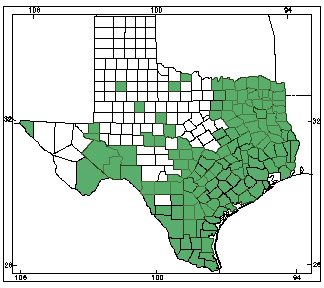 Map is based on museum voucher specimens; last updated 12 November 2014.