Scientific Name:
Ambystoma opacum
Diagnostic Features:
Large and stout salamander with a short, broad head.

Tail shorter than body length.

Four toes on forelimbs, and five on hind limbs.

Eleven or twelve costal grooves.
Coloration:
Dark gray or black dorsal and ventral surfaces.

Silver or white "crossbars" mark the dorsum, sometimes fusing with spots.
Size:
Ambystoma opacum grows to a total length of 7.5-12.5 cm (3-5 in) as an adult.
General Distribution:
In North America, Ambystoma opacum is found from New England to Florida and Illinois to Texas.
Behavior:
Ambystoma opacum is rarely seen in water, but remains near it in moist areas.
Reproduction:
Breeding in Ambystoma opacum occurs throughout the fall. Females lay 50-200 eggs on land and guard them until rainwater comes, triggering hatching.
Habitat:
Ambystoma opacum prefers drier environments than many salamander species, but it remains near water and is commonly seen in wooded areas.
Conservation Status:
The marbled salamander is not a protected species in Texas and can be legally collected with a hunting license.
Texas Distribution:
In Texas, Ambystoma opacum is found in east Texas from the Red River to the Gulf of Mexico.
Distribution Map: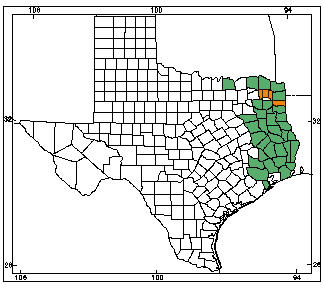 Orange counties indicate new county records since previous Herps of Texas update in 1998; all other colored counties reflect known distribution prior to 1998 for species and/or subspecies. Map is based on museum voucher specimens.