Scientific Name:
Plestiodon multivirgatus
Diagnostic Features:
Small, slender lizard with short limbs and a long tail that is wide at the base.
Coloration:
Dorsal ground color is brown.

Dorsal pattern may consist of dark and light stripes that fade with age, or, there may be no pattern (plain).

Males may have orange coloration at lips that extends to ear openings.
Size:
Plestiodon multivirgatus is a medium-sized skink, with adults growing to 12.5-19 cm (5-7.5 in) total length.
General Distribution:
In North America, Plestiodon multivirgatus has a range from Utah and Arizona to Colorado, New Mexico, and Texas.
Behavior:
Plestiodon multivirgatus is a diurnal skink species that primarily eats insects. This species seeks shelter under rocks and other debris.
Reproduction:
Breeding times are not known. Females lay up to 5 eggs. Hatchlings are dark with bright blue tails. Females guard their nests.
Habitat:
Plestiodon multivirgatus is seen in a variety of habitats that range from desert flats to mountainous wooded areas to grassy plains. The striped variety is found in the mountainous habitats, while the plain variety is seen in the arid settings.
Conservation Status:
The many-lined skink is not a protected species in Texas and can be legally collected with a hunting license.
Texas Distribution:
In Texas, a single subspecies of Plestiodon multivirgatus, P. m. epipleurotus, is found in isolated populations in west Texas and in the Panhandle.
Taxonomy Notes:
The North American skinks (north of Mexico) previously placed in the genus Eumeces are now restricted to the genus Plestiodon (Brandley et al. 2005, Systematic Biology 54:373-390).
Distribution Map: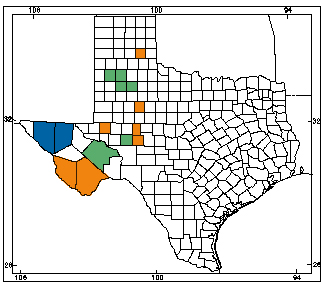 Orange counties indicate new county records since previous Herps of Texas update in 1998; all other colored counties reflect known distribution prior to 1998 for species and/or subspecies. Map is based on museum voucher specimens.