Scientific Name:
Pituophis ruthveni
Diagnostic Features:
Undivided anal plate.
Rough, keeled scales (in rows of 27 to 33 at midbody).
Enlarged rostral scale, modified for a burrowing lifestyle.
Coloration:
Tan-yellow dorsal background with contrasting chocolate brown saddles found along the center of the back.

Differing amounts of black pigmentation may be present dorsally as well, obscuring the saddles along the anterior third of the snake. Amount of dorsal black pigmentation is variable throughout the species' geographic range (snakes found in Louisiana often much darker than those from Texas).

Fewer than 40 blotches are found along the back, with the alternating brown blotches and yellow background seen on the tail giving a banded appearance.

Ventral scales are yellow or white with black spots present medially, as well as along the dorsal scale border.
Size:
Adult Pituophis ruthveni average 122-142 cm [48-56 in]) in length.
General Distribution:
Pituophis ruthveni is only found in western Louisiana and east Texas.
Behavior:
Pituophis ruthveni is non-venomous, constricting its prey (mammals and amphibians) until the prey's subsequent suffocation. Not much is known about the natural history of this animal, especially as its primary habitat of mature piney woods is much less abundant today than it was around the turn of the century. Although it is called a pinesnake, this large snake is strictly terrestrial, seeking to burrow into the sandy soils found in its habitat rather than to climb trees. Pinesnakes are also famous for their "fierce" defensive posture: an S-shaped coil raising the head above the rest of the body, tail vibrating, and a loud hissing noise being produced by air rushing past the snake's epiglottis.
Reproduction:
This species of pinesnake lays eggs, though almost nothing else is known about their reproductive natural history.
Habitat:
The Louisiana pinesnake is a secretive snake found in the piney woods of eastern Texas; Pituophis ruthveni is not a frequently encountered snake, with the majority of individuals being found on roadways in the early morning and early evening.
Conservation Status:
Pituophis ruthveni is listed as endangered by the Texas Parks and Wildlife Department and is therefore protected by the state of Texas.
Texas Distribution:
In Texas, Pituophis ruthveni is restricted to the remaining piney woods of east Texas.
Distribution Map: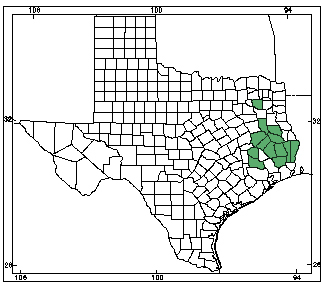 Orange counties indicate new county records since previous Herps of Texas update in 1998; all other colored counties reflect known distribution prior to 1998 for species and/or subspecies. Map is based on museum voucher specimens.