Scientific Name:
Gambelia wislizenii
Diagnostic Features:
Slender lizard with an elongated head and black throat lining.

Long, rounded tail (about twice the length of the head and body).
Coloration:
Gray or brown ground color with dark brown or black spots on body, limbs, and tail.

Dorsal color varies with environment, temperature, and activity.

Pale colored ventral surface.

Females have red or orange bars or spots on side of body and underside of tail just before laying eggs.
Size:
Gambelia wislizenii can reach an adult length (including tail) of 21-38 cm (8.5-15 in).
General Distribution:
In North America, Gambelia wislizenii is found from California, Nevada and Utah to extreme west Texas and northern Mexico.
Behavior:
The leopard lizard is quick and active. When hiding beneath widely spaced clumps of vegetation, this is a particularly difficult species to spot. Leopard lizards feed on insects, spiders, and small lizards, occasionally eating others of its own species. Leopard lizards will hiss when threatened and will bite.
Reproduction:
Breeding occurs April-June with females laying 2-4 eggs in mid-summer and hatching in August.
Habitat:
The leopard lizard occupies flat and arid habitats with loose, sandy soil and little vegetation.
Conservation Status:
The leopard lizard is not a protected species in Texas and can be legally collected with a hunting license.
Texas Distribution:
In Texas, Gambelia wislizenii is found west of the Pecos River through Big Bend to El Paso.
Distribution Map: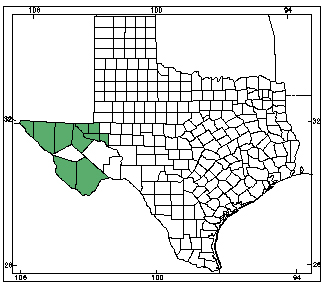 Orange counties indicate new county records since previous Herps of Texas update in 1998; all other colored counties reflect known distribution prior to 1998 for species and/or subspecies. Map is based on museum voucher specimens.