Scientific Name:
Caretta caretta
Diagnostic Features:
Elongated carapace, with five or more pair of pleural scutes (the first pair touch 1st cervical scute).

Carapace may have slight keel in juveniles, becoming smoother with age.

Unhinged plastron that may have two longitudinal ridges that are lost with age.

Three poreless inframarginals along bridge.

Broad head rounded in front; top of head with two pair of prefrontals.

Paddle-like front limbs.
Coloration:
Carapace dark, from reddish-brown to olive, though some scutes with yellow borders.

Plastron yellow to white.

Skin often darker dorsally (with yellow or cream color ventrally).

Head yellow, reddish, or brown; scales on head may be bordered in yellow.
Size:
Adult Caretta caretta grow to lengths between 85-100 cm (34-40 in) making them the largest hard-shelled turtle species in the world. The largest loggerhead ever recorded measured 2.1 m (7 ft) in length and over 453 kg.
General Distribution:
In North America, the distribution of Caretta caretta is found along the Atlantic Coast from Canada to the southern Gulf Coast. They are also found along the Pacific Coast from Alaska to Mexico.
Behavior:
The loggerhead is a marine turtle, most frequently seen when females come onto nesting beaches to lay eggs. Females may follow a pattern of migrating to a reproductive area, nesting, migration from nesting area to feeding area, and extended period of active feeding. Omnivorous, the loggerhead feeds on jellyfish, squid and many hard-shelled prey, like barnacles, snails, and bivalves. Juveniles feed on invertebrates associated with floating mats of seaweed.
Reproduction:
Peak nesting dates are May through July. Females may lay 1-3 clutches during a nesting season, with eggs averaging 110-130 per clutch. Incubation is 50-75 days.
Habitat:
Loggerhead seaturtles can be found in worldwide in most seas.
Conservation Status:
The loggerhead seaturtle is considered a threatened species by the Texas Parks and Wildlife Department and is fully protected by the state. Additional protection has been afforded to this species as the U.S. Fish and Wildlife Service considers the loggerhead seaturtle to be a federally threatened species.
Texas Distribution:
In Texas, Caretta caretta has been spotted along the majority of the Texas Gulf Coast.
Distribution Map: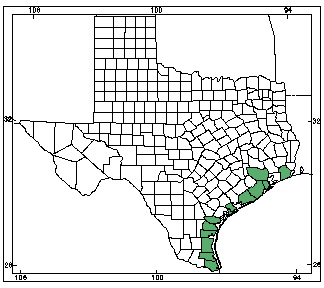 Orange counties indicate new county records since previous Herps of Texas update in 1998; all other colored counties reflect known distribution prior to 1998 for species and/or subspecies. Map is based on museum voucher specimens.