Scientific Name:
Aspidoscelis inornata
Diagnostic Features:
Slender lizard with a comparatively long tail, about 3 times the head-body length.

Small, granular dorsal scales with enlarged scales on back of forelimbs and along the front edge of throat fold.

Belly with 8 rows of large, rectangular scales.
Coloration:
Dorsal ground color dark gray or black.

Dorsal pattern consists of 6-8 light stripes that run from the head onto the tail; no spots occur between the stripes.

Blue coloration on sides of head.

Ventral surface blue, though adult males have much deeper blue on ventral surface than females.
Size:
Adult Aspidoscelis inornata grow to 11-24 cm (6.5-9.5 in).
General Distribution:
In North America, Aspidoscelis inornata is found in west Texas and adjacent Mexico and New Mexico.
Behavior:
This diurnal lizard forages for large insects and spiders.Aspidoscelis inornata is wary of being approached, and will hide under vegetation or in a burrow if threatened.
Reproduction:
Breeding occurs in the spring and eggs are laid from May to July. Females lay 2-4 eggs. Hatchlings have a pale blue venter.
Habitat:
Aspidoscelis inornata can be seen rocky slopes or grassy flatlands in arid and semi-arid environments. It is sometimes seen in sandy soil environments.
Conservation Status:
The Trans-Pecos striped whiptail is not a protected species in Texas and can be legally collected with a hunting license.
Texas Distribution:
A single subspecies of Aspidoscelis inornata, A. i. heptagramma, is found in Texas, present throughout the western portion of the state.
Distribution Map: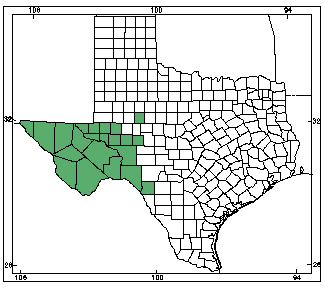 Orange counties indicate new county records since previous Herps of Texas update in 1998; all other colored counties reflect known distribution prior to 1998 for species and/or subspecies. Map is based on museum voucher specimens.