Scientific Name:
Dermochelys coriacea
Diagnostic Features:
Lyre-shaped, smooth carapace, with no horny scutes, tapers to point at rear.

Carapace covered in leathery skin.

Toothlike cusp on each side of jaw.
Coloration:
Carapace black to brown.

Small scattered yellow or white blotches may be present on carapace.

Head and neck black with blotches (yellow, white, pink).

Limbs black with minor and small white spots.
Size:
Dermochelys coriacea is the largest living turtle, reaching lengths in excess of 2.4 m (8 ft).
General Distribution:
In North America, Dermochelys coriacea is found along the Atlantic Coast from Newfoundland to the southern Gulf Coast. They are also found along the Pacific Coast from southern Washington to Mexico.
Behavior:
Leatherbacks are known for following floating schools of jellyfish, their favorite and primary food source. Much about their natural history and daily life cycle is unknown, however they can be found in cool waters, waters too cool for any other species of seaturtle.
Reproduction:
Nesting occurs March to July. Nesting is uncommonly reported from South Padre Island, Texas. Females average six clutches per year, but only laying eggs every two to three years. Clutch size ranges between 50-166 eggs. Incubation is 50-75 days.
Habitat:
Primarily a pelagic species, leatherback seaturtles are occasionally found in shallow waters and bays.
Conservation Status:
The leatherback seaturtle is considered an endangered species by the Texas Parks and Wildlife Department and is fully protected by the state. Additional protection has been afforded to this species as the U.S. Fish and Wildlife Service considers the leatherback seaturtle to be a federally endangered species.
Texas Distribution:
In Texas, Dermochelys coriacea has been found at several locations along the Gulf Coast.
Distribution Map: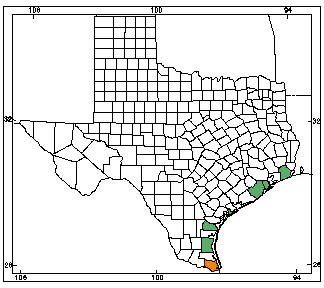 Orange counties indicate new county records since previous Herps of Texas update in 1998; all other colored counties reflect known distribution prior to 1998 for species and/or subspecies. Map is based on museum voucher specimens.