Scientific Name:
Aspidoscelis laredoensis
Diagnostic Features:
Slender lizard.
Small, granular dorsal scales with enlarged scales on back of forelimbs.
Belly with 8 rows of large, rectangular scales.
Coloration:
Dorsal ground color dark green or dark brown.

Dorsal pattern consists of 7 light stripes that run from the head onto the tail; light spots may occur between the stripes. The middorsal stripe is narrow and may not be continuous.

Ventral surface white.

Tail greenish brown with light tan underside.
Size:
Aspidoscelis laredoensis can grow to a maximum total length of 15- 28 cm(6-11 in).
General Distribution:
In North America, Aspidoscelis laredoensis has a small and narrow range in the lower Rio Grande Valley.
Behavior:
This diurnal lizard forages for insects among vegetation clumps and leaf litter.
Reproduction:
Aspidoscelis laredoensis is an all-female species; there are no males in this species. Reproduction occurs through parthenogenesis. One to four unfertilized eggs are laid in midsummer. Hatchlings appear in July and August. Hatchlings have a light, sky-blue tail, but otherwise resemble the adults.
Habitat:
Aspidoscelis laredoensis is common in disturbed areas with sandy or sandy-loam soil and weedy vegetation. Dirt roadsides, edges of cultivated fields, abandoned lots, and heavily grazed pastures in semi-arid environments are preferred.
Conservation Status:
The Laredo striped whiptail is not a protected species in Texas and can be legally collected with a hunting license.
Texas Distribution:
In Texas, Aspidoscelis laredoensis is restricted to the lower Rio Grande Valley from Val Verde County to Cameron County.
Distribution Map: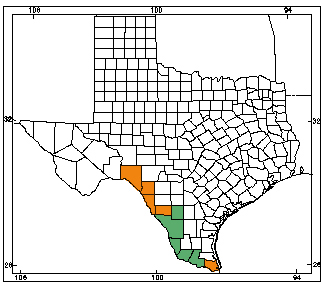 Orange counties indicate new county records since previous Herps of Texas update in 1998; all other colored counties reflect known distribution prior to 1998 for species and/or subspecies. Map is based on museum voucher specimens.