Scientific Name:
Lepidochelys kempii
Diagnostic Features:
Heart-shaped carapace with five pair of pleural scutes (the first pair in contact with 1st cervical scute).

Mid-dorsal knobs present, decreasing in height with age.

Posterior edge of carapace serrated.

Unhinged plastron.

Four inframarginals with pores along bridge.

Head wide with two pairs of prefrontals.

Short snout with hooked upper jaw.

Paddle-like front limbs.
Coloration:
Carapace dark green to gray.

Plastron and bridge white.

Skin and head gray.

Chin and throat yellow and neck dark.
Size:
Lepidochelys kempii reaches a maximum carapace length of 75 cm (30 in).
General Distribution:
In North America, adults of Lepidochelys kempii are rarely found outside of the Caribbean; juveniles are known from many locations across the Atlantic.
Behavior:
Adult Kemp's ridley seaturtles are restricted to the warm waters of the Caribbean. Little is known about their daily behavior, but they are thought to be diurnal, spending their day alternating between feeding and resting. This species is carnivorous, feeding on crabs, shrimp, snails, bivalves, jellyfish as well as marine plants and algae.
Reproduction:
Nesting occurs April to July. Females may lay eggs every year, or every two or three years. Clutch sizes average 100-110 and incubation is between 60-70 days.
Habitat:
Kemp's ridley seaturtle prefers shallow waters (50 m or less); juvenile ridley seaturtles can be found in association with Sargassum (seaweed) mats.
Conservation Status:
The Kemp's ridley seaturtle is considered an endangered species by the Texas Parks and Wildlife Department and is fully protected by the state. Additional protection has been afforded to this species as the U.S. Fish and Wildlife Service considers the Kemp\'s ridley seaturtle to be a federally endangered species.
Texas Distribution:
In Texas, Lepidochelys kempii has been spotted along the beaches of most of the Texas Gulf Coast.
Distribution Map: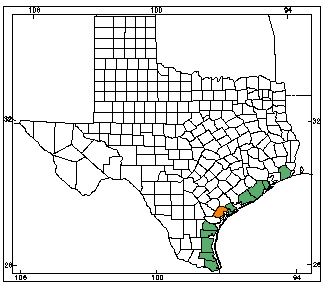 Orange counties indicate new county records since previous Herps of Texas update in 1998; all other colored counties reflect known distribution prior to 1998 for species and/or subspecies. Map is based on museum voucher specimens.