Scientific Name:
Holbrookia propinqua
Diagnostic Features:
Small lizard, with small keeled scales.

Two throat folds (one weak).

No external ear openings.
Coloration:
Dorsal ground color is green-gray or brown, but varies between the sexes.

Males have two dark diagonal lines behind forelimbs and may have a combination of blotches and stripes with white flecks; females paler than males and may not have discernible dorsal markings.

Unmarked venter.

No markings on ventral surface of tail.
Size:
Holbrookia propinqua can grow to lengths of 11-4 cm (4.5-5.5 in)
General Distribution:
In North America, Holbrookia propinqua is seen in south Texas and along the Gulf Coast of Mexico.
Behavior:
Holbrookia propinqua is diurnal and forages for insects among the sand dunes and open sandy habitats with little vegetation. This species retreats quickly and disappears among the dunes when threatened.
Reproduction:
Breeding times are not known, but hatchlings appear in the summer months.
Habitat:
Holbrookia propinqua prefers sandy environments and is common on sand dunes and barrier beaches within its range.
Conservation Status:
The keeled earless lizard is not a protected species in Texas and can be legally collected with a hunting license.
Texas Distribution:
The single subspecies of Holbrookia propinqua found in Texas, H. p. propinqua, is found in south and south-central portions of the state.
Distribution Map: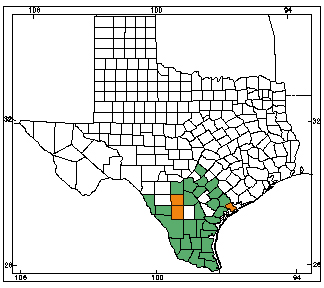 Orange counties indicate new county records since previous Herps of Texas update in 1998; all other colored counties reflect known distribution prior to 1998 for species and/or subspecies. Map is based on museum voucher specimens.