Scientific Name:
Hemidactylus garnotii
Diagnostic Features:
Small, ovoid dorsal scales, with no large tubercles.

Large toe pads.
Coloration:
Dorsal color solid or slightly marbled color, either brown or brownish gray.

Small white spots found on dorsal surface, spots of varying size/shape.

Yellow belly.

Ventral surface of tail light red, orange, or yellow.
Size:
Hemidactylus garnotii grows to adult lengths of 10-13 cm (4-5 in), including tail.
General Distribution:
In North America, Hemidactylus garnotii, a native of southeast Asia and the East Indies, has been introduced to Florida and Texas.
Behavior:
Hemidactylus garnotii is a nocturnal gecko species that feeds on insects. This species can vocalize when threatened or during interactions with other geckos.
Reproduction:
Parthenogenetic species; no males present in this species. Females lay two eggs that may take 1-2 months to hatch.
Habitat:
In Texas, Hemidactylus garnotii is an urban lizard found only at the Dallas Zoo. In its native habitat, this gecko is found in both natural and disturbed forest habitats, as well as in human dwellings.
Conservation Status:
The Indo-Pacific gecko is not a protected species in Texas and can be legally collected with a hunting license.
Texas Distribution:
In Texas, Hemidactylus garnotii has been found (introduced) only in Dallas County.
Distribution Map: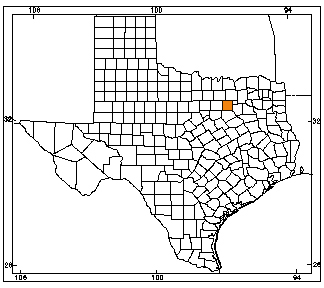 Orange counties indicate new county records since previous Herps of Texas update in 1998; all other colored counties reflect known distribution prior to 1998 for species and/or subspecies. Map is based on museum voucher specimens.