Scientific Name:
Bufo houstonensis
Diagnostic Features:
Thickened cranial ridges.
Coloration:
Mottled black or brown on ground color of cream to purple-gray, with dark green patches sometimes present.

Light middorsal stripe present.

Mottling on dorsum forms zig-zag pattern.

Numerous dark spots on pale venter.

Males with dark colored throats.
Size:
Adult Bufo houstonensis average 5-7 cm (2-2.5 in) in length.
General Distribution:
Bufo houstonensis is only known from a handful of counties in southeast Texas.
Behavior:
Strictly a nocturnal species, Bufo houstonensis feeds on insects and other invertebrates.
Reproduction:
Breeding in Bufo houstonensis takes place from February to June and may be repeated if conditions permit, once in early spring and again in early summer. Males call from grass-bordered pools.
Habitat:
Bufo houstonensis inhabits pine forests and prairies, restricted to areas with deep sandy soils.
Conservation Status:
The Houston toad is considered an endangered species by the Texas Parks and Wildlife Department and is fully protected by the state. Addtional protection has been afforded to this species as the U.S. Fish and Wildlife Service considers the Houston toad to be a federally endangered species.
Texas Distribution:
In Texas, Bufo houstonensis was found historically across less than a dozen counties in southeastern quarter of the state; today, B. houstonensis is found in less than six counties.
Distribution Map: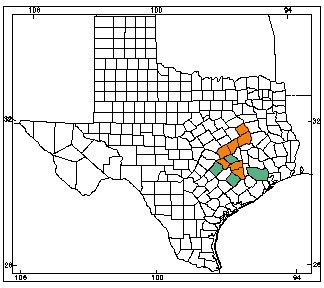 Orange counties indicate new county records since previous Herps of Texas update in 1998; all other colored counties reflect known distribution prior to 1998 for species and/or subspecies. Map is based on museum voucher specimens.